---
---

Bilingual "Color a Fish" coloring book offers first Spanish/English Boating Safety Sidekicks activity book for children
For many boat kids, fishing and boating go hand in hand. And when they are not fishing or cruising they are likely to be spending their down time coloring or drawing.
The National Safe Boating Council (NSBC) and the Recreational Boating & Fishing Foundation (RBFF) announces its collaboration in creating the first Spanish/English Boating Safety Sidekicks activity book for children. The Boating Safety Sidekicks "Color-a-Fish" book is designed to educate kids about different fish through a fun hands-on approach.
This coloring book teaches children the names and shapes of the fish that they might encounter in freshwater or saltwater. Children will now be able to classify and describe the fish in two languages on their next fishing trip. Parents will be glad to know that this program not only delivers fun but also educates, and will keep their child both busy and entertained!
Personally I love to keep coloring books on board our boat. Its a great way to keep kids busy rainy days on the boat, as an early morning activity or to keep them entertained when dining at the marina restaurant (they can only color that kid's menu so many times!)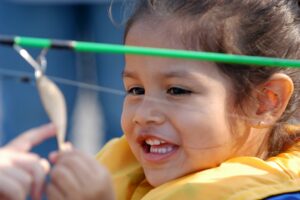 "Color-a-Fish", also known as "Colorea-el-Pez", features six types of fish with one page in English and the next page in Spanish. This 12-page book also includes an anatomically correct coloring key to guide the child in coloring the appropriate colors to match the actual fish, the scientific and family name, and the length. The pictures provide a balanced mix of creative coloring and fine motor skills development.
The new bilingual coloring book is just one effort by RBFF as part of a 5-year plan to increase awareness of fishing and boating among Hispanics, and engage the fastest growing segment of the U.S. population in these activities. They also run a new Spanish-language microsite, VamosAPescar.org that aims to motivate the Hispanic audience to partake in the joys of fishing and boating. The site includes boating basics, how-to fish videos, an interactive where-to fish and boat map, fishing license and boat registration information, and mythbusters to help dispel the perceived barriers to getting out on the water.
"We're excited to work with RBFF and their new Hispanic-outreach effort, Vamos A Pescar™, to educate even more people about the importance of boating safety," remarks Rachel Johnson, executive director of the NSBC. "By getting kids involved, we're working to reach the entire family with a fun message of boating and fishing."
Where to Buy
"Color-a-Fish" coloring book is available for order from the National Safe Boating Council. Please visit SafeBoatingCouncil.org for more information on pricing or contact the NSBC office at (703) 361-4294 or email office@safeboatingcouncil.org.

Disclosure Policy:
This site may contain links that are affiliated with companies where we receive compensation.
Full disclosure policy
.
---
---
---
The following two tabs change content below.
Latest posts by Diane Seltzer (see all)