Baby Boat Gear:
Top 10 Must-Have Baby Products for Your Boat
A round-up of essential baby boat gear & products you should have when bringing a baby or infant on a boat... why you need them AND our favorite product picks!
As parents we know very well that babies need a lot of stuff. Sleeping gear, eating gear, playing gear and safety gear. Babies have a LOT of stuff!
On a boat, your baby's gear may be slightly different. Some of it may need to be downsized to fit on your boat. Some of it may be boat-specific gear you don't normally use at home. I've had two boat babies (now boat kids) and learned a bit about what types of products that work best on a boat.
So here's my round-up of the top 10 baby boat gear products you will want to bring on board your boat for baby.
---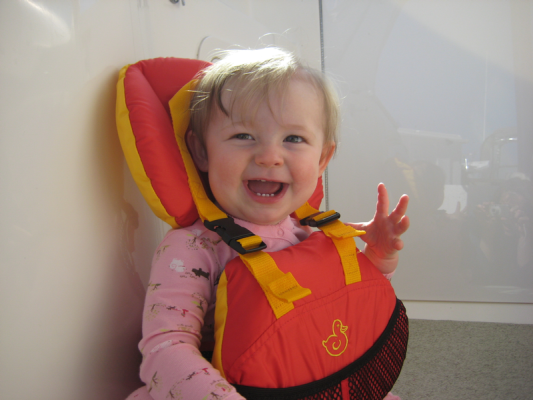 #1 Infant Life Jacket
An infant life jacket is a must on a boat or by the water. It should have a heads up flotation pad and a crotch strap. Most importantly, it should be the appropriate size for your child so that it fits properly and has the right buoyancy for your baby's weight.
Most likely you'll want to pick one that says "Infant Less than 30 lbs". I also prefer the style that looks more like a "V" shape so that it is less boxy for a baby that you are likely holding while wearing the vest.
OUR PICKS FOR BABY LIFE JACKETS:
---
(#2 - #4) Sleeping Gear
How your baby sleeps on your boat will be dependent on 2 things:
how big (or old) they are
how much space you have inside the boat
Because of these variables, it's hard to select just one product, but there are 3 baby bed options on a boat that stand out to me as must-have sleeping products for your boat baby.
#2 Co-sleeper
If you are tight on space, a newborn baby can snuggle up next to your bed or sleep safely in an aft bed in a co-sleeper. These co-sleepers are great for the first few months and take up very little space on your boat.
#3 Rocker
If you have a little more floor space I absolutely loved my rocker. These can be used until your baby can sit up and as a bonus the slight incline is really good for a baby with colic. Not only are they a nice place for baby to sleep, but they are also a really good safe place to have baby rest when you need some hands free time.
#4 Pack-n-Play
As baby gets a bit bigger a space-hogging pack-n-play is the best way to go. It will cramp your style & space will be tight, but your baby will have a safe place to sleep and play. Pack-n-plays are good up until about 2 years old when you feel its safe enough for toddlers to sleep in a cabin bed. Try to select one that is as compact as possible for your boat!
---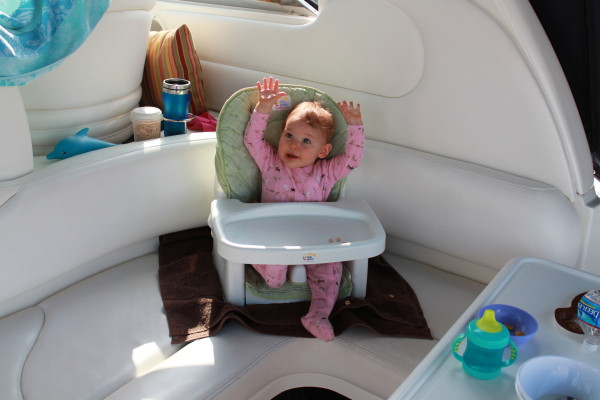 #5 Booster Seat
A full size highchair is obviously not practical on a boat, so booster seats with trays are a great way to feed babies on a boat.
Although it is difficult to strap the booster seat onto a seat (like it is intended to be used), you can still make use of a booster on a boat. We placed our booster in the corner of the bench seat where it is deeper and we often angled our table toward the booster tray to prevent it from sliding forward.
Placing a towel under the booster was also handy to clean up the inevitable mess (oh the many, many Cheerios!) and also protect the seat from any possible chair marks.
OUR PICKS FOR BOOSTER SEATS:
---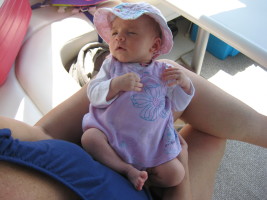 #6 Sun Hats & Shirts
Babies need their tender little peach fuzz heads & bodies protected from the sun. Sun hats & shirts protect them from the sun, shield their eyes and bodies from harmful rays.
We always have sun hats on the boat, in the diaper bag, in the car, in the stroller - anywhere we can stash a few extras so there is always one handy. We also used sun shirts when out on the water to give their skin full UV protection at all times.
OUR PICKS FOR SUN HATS & SHIRTS:
---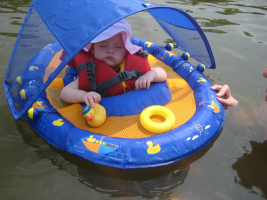 #7 Baby Swim Float
Whether you are swimming with your baby while anchored out or at the marina pool, a swim float is a great water toy to have on board. To be extra safe, I use an infant life vest as well as the float when anchored out (and always have a hand on the float).
Swim floats give baby a chance to play in the water without being held the entire time (also a nice break from your arms). The biggest bonus is that you have a built-in sunshade to protect your baby from the sun while in the water.
OUR PICKS FOR BABY SWIM FLOATS:
---
#8 Baby Sunglasses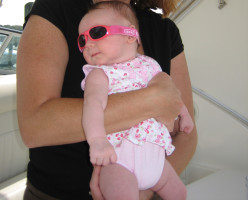 Your styling baby needs shades on the boat - to look cool and protect their eyes!
Baby sunglasses should be very flexible and non-breakable. A comfortable strap is also preferable so sunglasses actually stay on for longer than 30 seconds. I like to use sunglasses around the water to protect eyes when the sun is particularly strong shining off the water.
OUR PICKS FOR BABY SUNGLASSES:
---
#9 Baby Sunscreen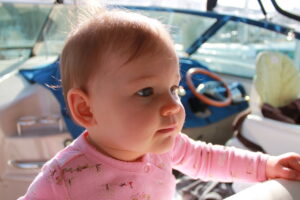 A good supply of sunscreen for baby's delicate skin is essential on board your boat. Make sure you are buying a high SPF (50 is usually our pick) and something labeled for baby (which is best for baby's sensitive skin). Look for "fragrance free"or "all natural". A face stick is also handy for keep touch-ups on the face throughout the day (and is usually easier to apply on a face).
Note: It is recommended that babies under 6 months old not use sunscreen - so it is particularly important to keep them protected from the sun as much as possible.
OUR PICKS FOR BABY SUNSCREEN:
---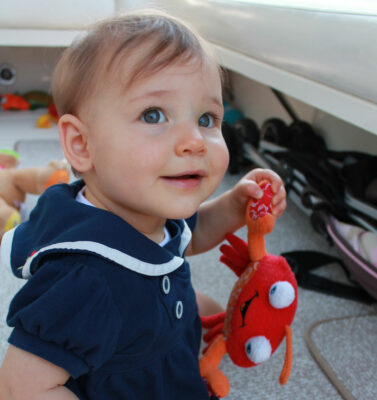 #10 Boat TOYS!
It probably goes without saying that babies need toys! For the boat, we like nautical inspired toys like sea creatures or play boats.
We also try to stick with softer toys or toys that will not harm the boat if baby decides to pound them onto the seats in the cockpit. And of course floating toys are very helpful on the boat or around water!
Our babies loved their plush sea creatures and spent countless hours playing with their little yellow duck family set on the boat (this was a favorite for both kids). We like to keep a stash of toys on the boat during the season so we're not packing toys every week.
OUR PICKS FOR BABY BOAT TOYS: