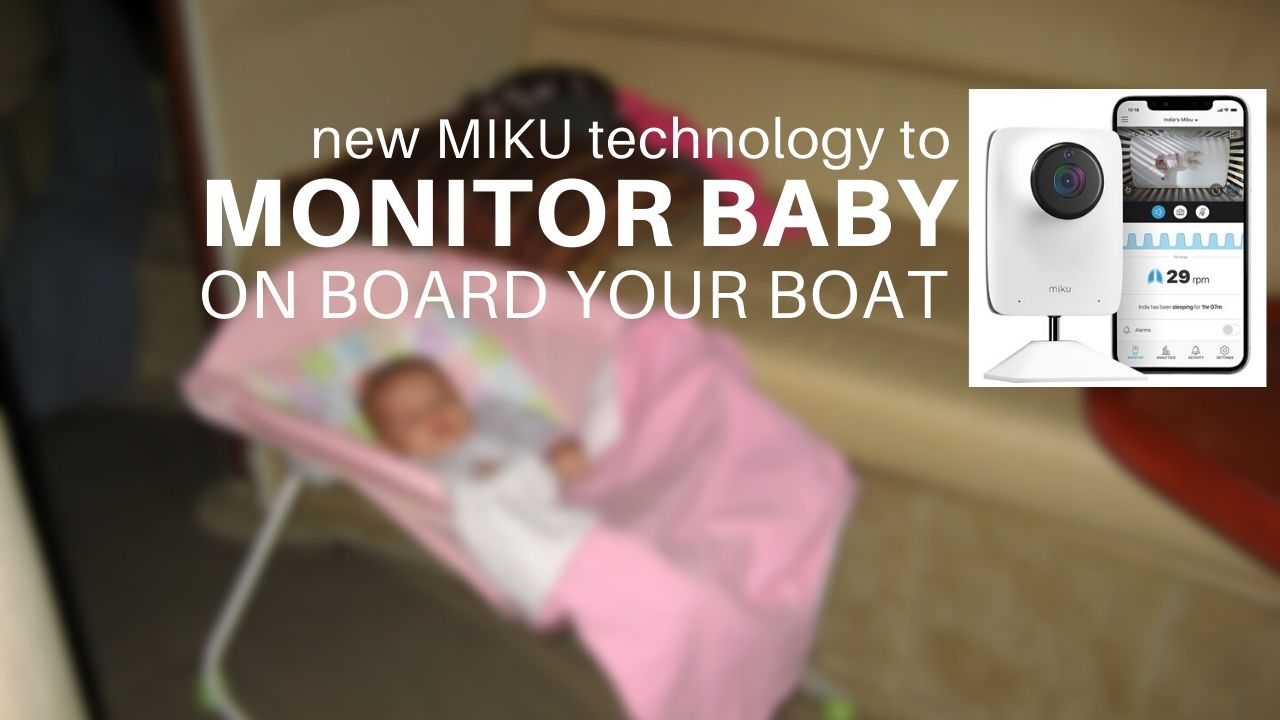 ---
---
New baby monitor devices like Miku offer boaters a high tech way to monitor sleep, temperature and other vitals on board
Technology is like a waterfall. It starts out for some higher purpose and eventually winds up in what becomes common, everyday products. Tang, Teflon, and Velcro were all developed for the space program. Now you can find them all in every Walmart!
Just as winged keels segued from the America's Cup to production sailboats, baby monitors are available to be used beyond the nursery and on board your floating baby!
When my kids were infants, baby monitors were little more than one-way FM walkie-talkies to which anyone could listen if they had a receiver on the right frequency. I remember hearing a neighbor's conversation on her wireless phone through my son's monitor. Yes…I am dating myself here!
High Tech Baby Monitors
Technology has trickled down to the baby monitor market. Monitors are now capable of high resolution video monitoring, two-way talk, playing sleep sounds, and with some devices, monitoring vital signs.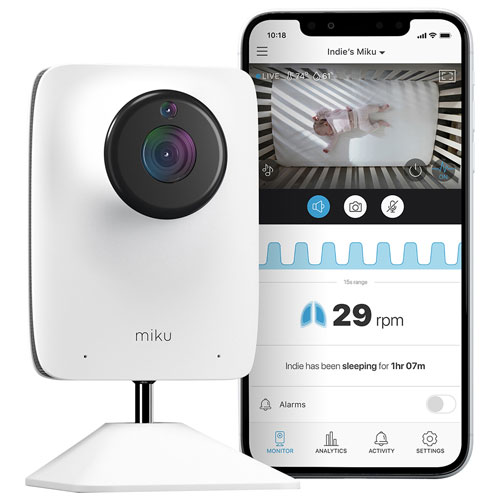 Among the best devices on the market is one by Miku, Inc. It is an IoT (Internet of Things) device which essentially means it is Wi-Fi connected to a central data server. As such, you can access the Miku monitor remotely from anywhere in the world. Additionally, with so many marinas now offering WiFi, you can even use Miku on your boat at your home marina or in a transient slip! Now before you get all worked up about hacking and security, I can tell you that the Miku uses cryptochip technology along with multifactor authentication (MFA) to make it extremely difficult to access the video or data streams without explicit permission from the owner. Shared users like Grandma or the babysitter must get a one-time passcode (OTP) to access the live video and other associated data. Only the registered owner can issue OTPs or conversely, revoke access.
While several monitors can track vital signs, Miku does not require any wearables, pads, or wires. It is a completely contactless monitor. It uses a fusion of several sensors to monitor your child's status and environment. Miku can detect breathing, movement, excessive sounds, and no-movement transitions. Short videos are recorded to capture most of these events. A no-movement event might occur when a child leaves or is otherwise removed from her bed or if there were some type of breathing irregularity. When sleeping normally, a respiration waveform is displayed below the live stream video screen(1). Various alerts, notifications, and alarms can be configured to be sent to all connected devices.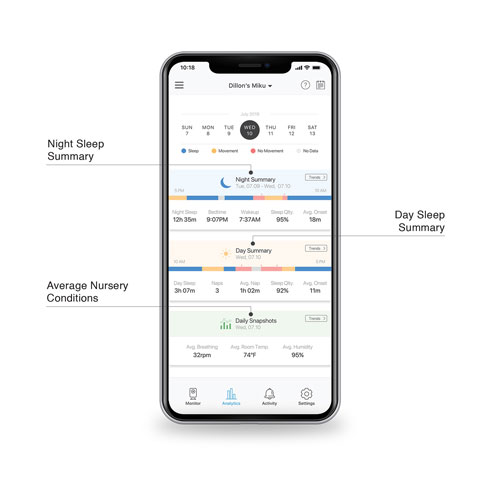 With an app that is available for both iOS and Android phones(2) , users can view live stream video, listen in and talk to their child, and play various sleep sounds preloaded on the Miku. Additionally, data held in the cloud is used to produce timelines of when the child sleeps and how well they slept. We call this sleep analytics. One can also play back those event videos described above. Any of those videos can be saved to your device, shared with others, or permanently deleted.
Since Miku is a Wi-Fi connected device, it can be connected to any local network that does not use a captive portal(3). One could connect to the Wi-Fi at a marina allowing you to monitor your child who might be sleeping on your boat. Miku's video streaming performance, like similar video products, is dependent on a good upstream connection to the Internet. Alternatively or additionally, it could very simply be used as a security monitor. It also reports ambient temperature and humidity once a minute – another great feature for a napping baby on a boat during the summer.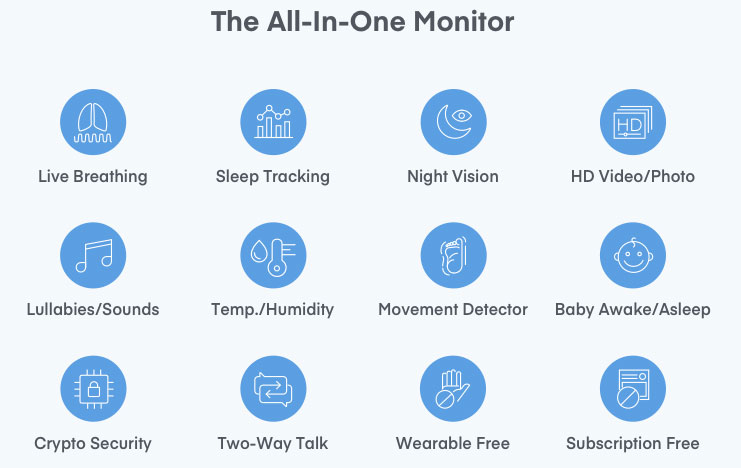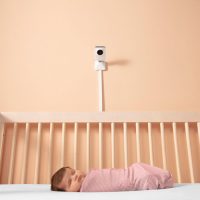 Ideally, Miku is wall-mounted at a specific distance above the child's bed but there is a mounting stand available as an optional accessory. Miku is a high-end product. It is built with the best of components and its firmware is continuously being upgraded to add and improve functionality. Vital statistics and sleep data are used anonymously by data scientists and firmware engineers to refine the algorithms used to monitor your child's circumstances. As the number of users grows, the increased amount of data allows Miku to literally get smarter! Firmware upgrades are done over the air (OTA) with no user intervention required.
Summary
The Miku video baby monitor is a leading product that is growing rapidly in the market.  It offers novel features for monitoring children.  It is not limited to use in a home nursery and can be a good solution for a baby monitor device on your boat.  Miku is allowing thousands of parents to put their minds at ease.
Miku baby monitors are available on Amazon and elsewhere.
This post was contributed by Capt. Rob Chichester, the Director of Firmware Engineering at Miku, Inc. He and his staff are responsible for developing the software the makes Miku work. Capt. Rob is also the owner & operator of Chesapeake Flotillas offering charters, instruction, and vessel relocation. A USCG Licensed Master, Capt. Rob has planned and executed flotilla cruises all over the Chesapeake Bay, Europe, and the Caribbean. Rob holds a 200-Ton Master's license with Auxiliary Sail and Assistance Towing endorsements. He also is certified by the American Sailing Association to teach Basic Keelboat Sailing, Basic Coastal Cruising, and Bareboat Chartering. A self-proclaimed sailor & poet, he operates his 41-foot sloop Bay Poet based out of Rock Hall, MD. Capt. Rob has also sailed as Relief Captain of the state tallship of New Jersey, the Schooner A.J. Meerwald. Capt. Rob is also a frequent contributor to MyBoatLife.com.
1)Miku baby monitors are not certified, promoted, or sold as medical devices.  They should not be used to diagnose or detect medical conditions.  Any reported events which arouse concern should be discussed with your pediatrician.
2)Miku supports most iOS and Android phones. Some tablets will work but the screens may not be formatted exactly for the given device. Huawei phones are NOT supported.
3)Captive portals are typically found in hotels and commercial establishments which require users to agree to their internet policy before gaining access to their local network.</font size>

Disclosure Policy:
This site may contain links that are affiliated with companies where we receive compensation.
Full disclosure policy
.
---
---
---
The following two tabs change content below.
Sponsored Post
My Boat Life offers sponsored content opportunities for businesses with relevant marine products or services. Build your brand while offering valuable content to boaters.
Learn More
.
Latest posts by Sponsored Post (see all)