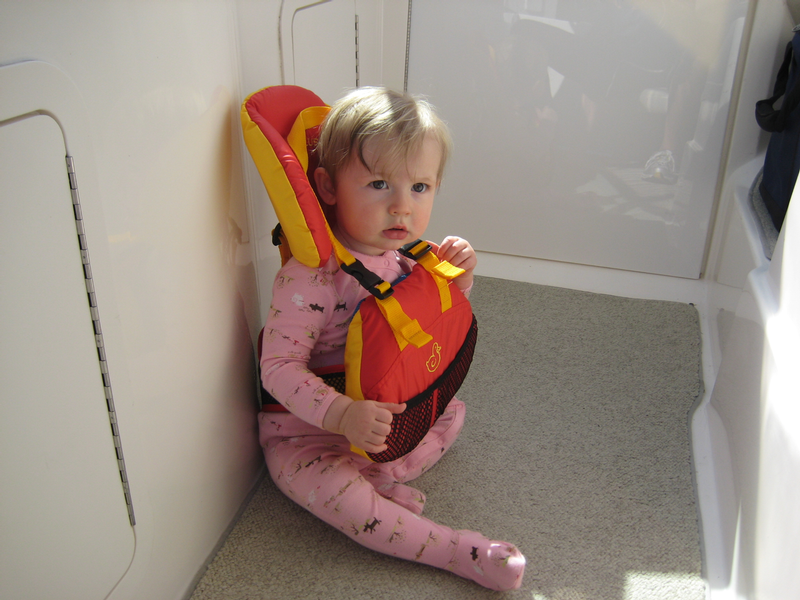 Protect your littlest crew member with a Coast Guard approved infant life jacket.
What features to look for in a life jacket for your baby:
Life jackets for babies and infants should be labeled as an Infant PFD under 30 lbs (be sure to pick the right size based on your baby's weight), Coast Guard approved and Type II.
Look for mandatory features for a safe baby life jacket such as a "heads-up" flotation pad and a strap that goes between the legs to keep the life jacket from sliding up.
A breathable, comfortable fit that is easy to put on or take off a baby
OUR FAVORITE BABY LIFE JACKET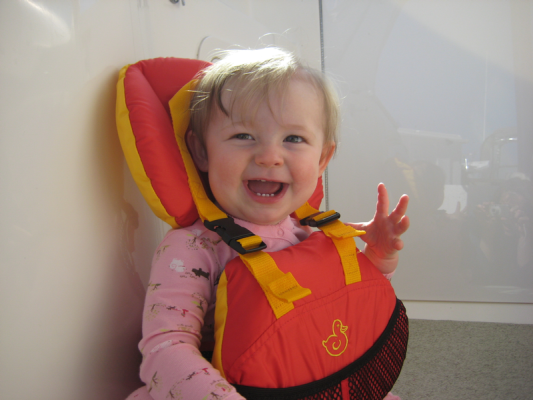 There are a bunch of good options on this page for infant or baby life vests, but the Salus Bijox Baby Vest was our personal choice. It's a particular good fit for newborn summer babies because it is designed for an 8-25 lb baby.
Both our babies wore this jacket and it was comfortable and easy to get them in & out of - especially important when they fall asleep and you need to get it off.
The design ensures that baby turns face-up from a face-forward position, while the collar cradles the head while floating. The mesh harness and short front enhances comfort when sitting upright or lying down and makes it super easy to get baby in & out of the vest.
Although the vest is not officially USCG or Transport Canada approved (since there is currently no testing standard to certify PFDs for children under 9 kilograms /20 pounds), it was a winner of the Canadian Safe Boating Award (CASBA) for Best New Safety Product and is a top selling jacket on Amazon for babies.
AVAILABLE ON AMAZON - CHOOSE FROM 5 COLORS - CLICK IMAGE BELOW TO BUY
MORE BABY LIFE JACKET OPTIONS (UNDER 30 LBS)
Here are some additional baby life jacket options that we recommend:
Disclosure: This site may contain links that are affiliated with companies where we receive compensation. Also, as an Amazon Associate we earn from qualifying purchases. Full disclosure policy.