Keep your busy toddler safe on a boat with Coast Guard Approved life vests for toddlers.
A toddler (between 18 months to 3 years old) needs some extra safety features on life jackets - such as a grab handle and strap between the legs. Toddlers less than 30 lbs should use an infant life jacket with a heads-up cushion.
Toddler life jackets are usually labeled for kids 30-50 lbs, listed as U.S. Coast Guard Approved and Type II or Type III, but you may choose one less than 30 lbs if you have a smaller toddler.
Here are some good choices for Toddler Life Jackets.
Toddler Life Jackets - 30-50 lbs
Puddle Jumper Life Jackets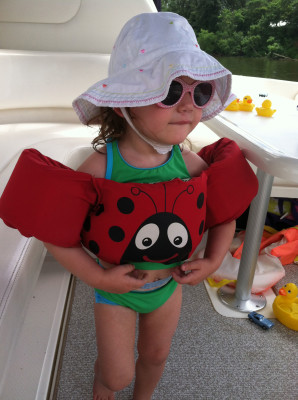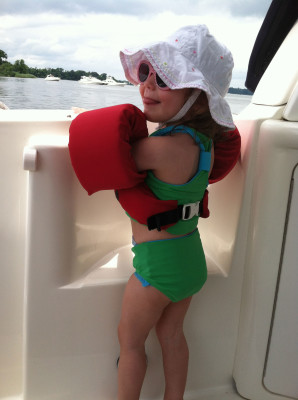 Perfect for helping kids learn how to swim, Puddle Jumper Life Jackets are U.S. Coast Guard Approved and safe for boating (read our full review of Puddle Jumpers for boating).
It features a buckle clasp in the back and unique flotation design that keeps chest and upper body elevated in the water. It comes in many different colors and characters for boys or girls. Appropriate for kids up to 50 lbs.
Shop Puddle Jumpers:
Puddle jumpers are all one size fits all and available in a lot of cute styles for boys and girls. The "Paddle Pals" are a variation of the Puddle Jumper and include a shoulder harness that prevents them from sliding off.
Disclosure: This site may contain links that are affiliated with companies where we receive compensation. Also, as an Amazon Associate we earn from qualifying purchases. Full disclosure policy.