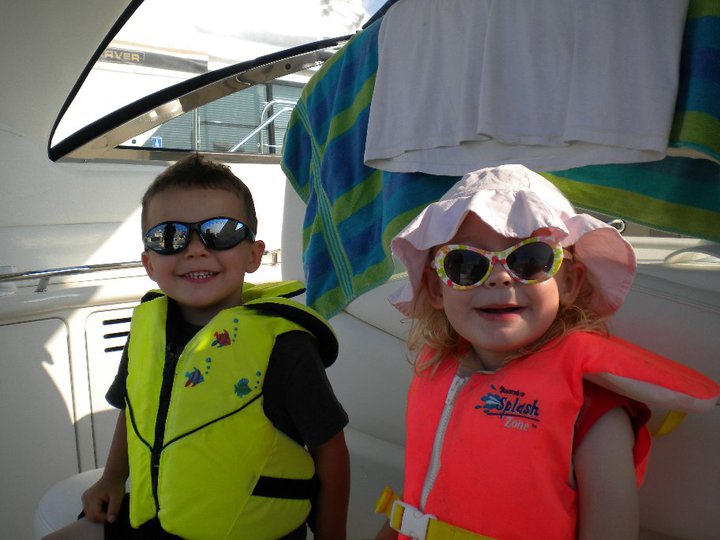 Keep your busy toddler safe on a boat with Coast Guard Approved life vests for toddlers.
A toddler (between 18 months to 3 years old) needs some extra safety features on life jackets - such as a grab handle and strap between the legs. Toddlers less than 30 lbs should use an infant life jacket with a heads-up cushion.
Toddler life jackets are usually labeled for kids 30-50 lbs, listed as U.S. Coast Guard Approved and Type II or Type III, but you may choose one less than 30 lbs if you have a smaller toddler.
Here are some good choices for Toddler Life Jackets.
Toddler Life Jackets 30 - 50 lbs
Stearns /Coleman Kids Hydroprene Character Life Jackets
The US Coast Guard-approved design is specially-fitted for children 30-50 lbs. Our lightweight hydroprene material is our softest material, and when combined with the durable cross Tech foam, it's perfect for comfortable, all-day wear. Two buckles and a zippered opening make it easy to get your child in and out of the vest, while an adjustable leg strap ensures a secure fit during all the fun at the pool, beach or lake.
Girls Seahorse Version - AVAILABLE ON AMAZON
Boys Walrus Version - AVAILABLE ON AMAZON
Stearns Child Classic Series Life Jacket - 30-50 lbs
Whether they're on a boat, a tube, water skis or a personal watercraft, your children will have a blast in Stearns Child Classic Series Vests. They're specially-fitted for children 30-50 lbs. The Coast Guard-approved life jacket is designed with open sides, three adjustable chest belts and a crotch strap for a tight fit and better movement.
Coast Guard approved and fits 30-50 lb kids. Comes in red or blue.
-----> AVAILABLE ON AMAZON
O'Neil Child Reactor USCG Life Vest
Perfect for Wake Sports, Waterskiing, Tubing, and Swimming - Segmented Foam Core And Anatomical Flex Points Allow Unrestricted Movement
Quick Release Safety Buckles And Heavy Duty Front Zipper Create an Unparalleled Sense of Security - Minimal Bulk Design Allows Full Mobility, While Expansion Panels Enable a Comfortable Fit.
Comes in boy or girl colors, is Coast Guard Approved and fits 30-50 lb kids.
------> AVAILABLE ON AMAZON
Full Throttle Water Buddies Life Vests - 30-50 lbs
When it comes to water safety, we've got your back. The Full Throttle Water Buddies life jackets feature bright, colorful designs and a rounded foam back with fun graphics, all while keeping your child safe on the water.
Your child will be friends for life with their new Water Buddies Lady Bug, Dinosaur, Astronaut, or Firefly life jacket vest that they will want to put on and keep on. Fits children 30-50 lbs.
-----> AVAILABLE ON AMAZON 
Puddle Jumper Life Jackets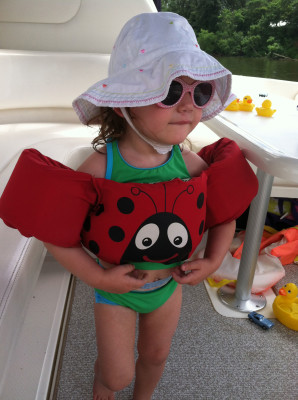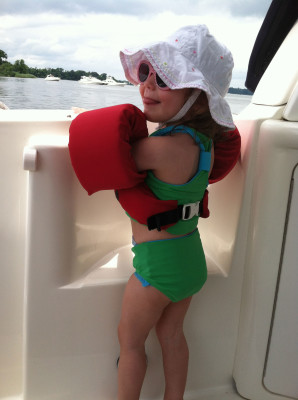 Perfect for helping kids learn how to swim, Puddle Jumper Life Jackets are U.S. Coast Guard Approved and safe for boating (read our full review of Puddle Jumpers for boating).
It features a buckle clasp in the back and unique flotation design that keeps chest and upper body elevated in the water. The deluxe version is more sturdy than the basic, and comes in many different colors and characters for boys or girls. Appropriate for kids up to 50 lbs.
Also check out Body Glove Paddle Pals (shown in options below) that are similar to Puddle Jumpers but feature a built-in vest.
Prices range from $25 - 49. (links to products below)
Recommended Puddle Jumpers: