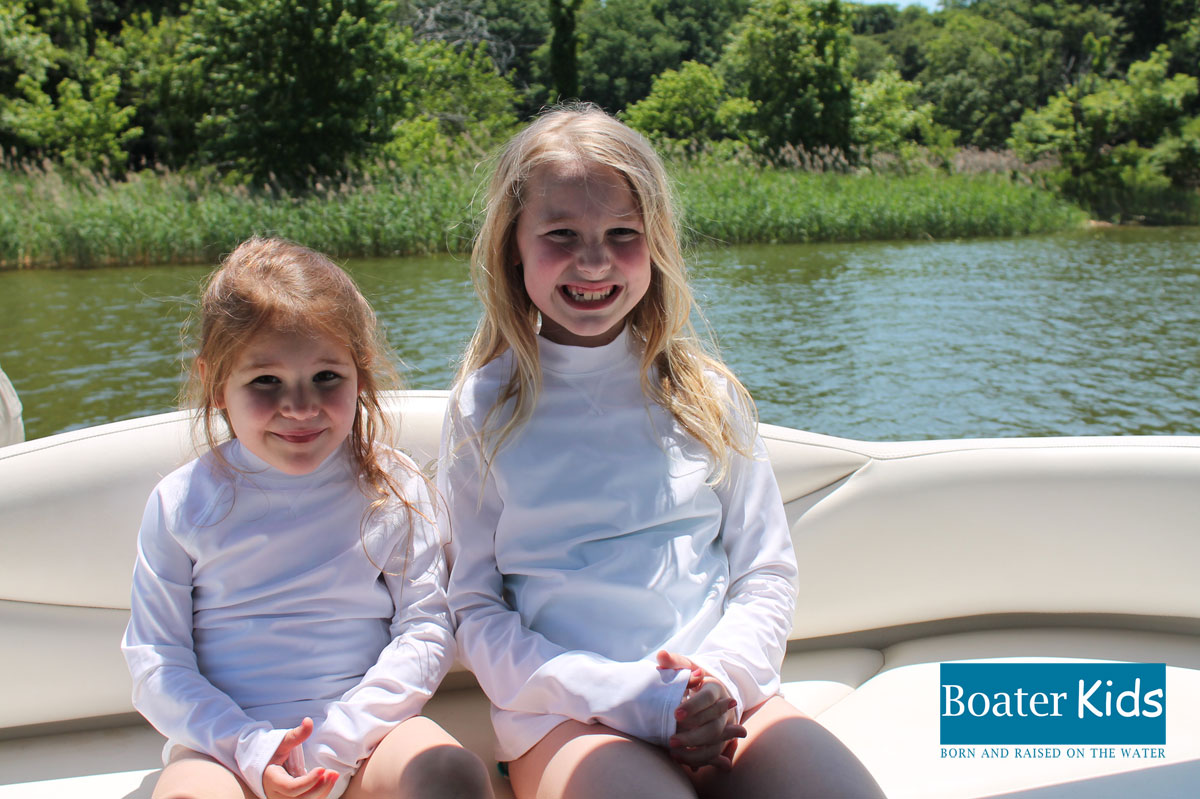 Summer fun in the sun can also mean not so fun sunburn. There is nothing worse than a painful sunburn on the boat… not to mention the long term effects sunburns can have on our skin.
As parents we always have to balance our kid's summertime fun with the need to protect their skin. It is an absolute priority on our boat.
With two kids that have light skin (especially the blonde!), we need to keep a watchful eye on how much sun they are getting and how well they are protected on our boat. I have also worked in the boating industry for a marine sunshade product, so I have a lot of experience with the need for sun safety in boating.
Here are some of the sun protection tips for kids on boats that I have learned along the way… as well as some recommended sun wear and gear.
---
Slather on the Sunscreen
Applying water-resistant SPF 50 sunscreen for kids is our routine as soon as they slip into their bathing suits or go out on deck.
Our pick is the Banana Boat Sunscreen (available on Amazon) in the pump because it is much easier to pump out the sunscreen rather than squeezing a tube (and getting your sunscreen covered hands all over the tube). And with a full boating season – whether or not you have more than one kid on board – you'll definitely need the family size!
For touch-ups on the face I like the Sunscreen Sticks. They are easy to add a little extra to noses, cheeks and foreheads – especially while playing in the water. This 4 pack of Sunscreen Sticks for kids is ideal for the boat – stash one in the cabin, cockpit, pool bag, etc.
Some sunscreen tips for kids:
Check how long it is water resistant – usually up to 80 minutes and then you have to reapply
Apply sunscreen on your kids at least 20 to 30 minutes before they race outdoors, whether it's a cloudy or a sunny day.
Make sure to reapply sunscreen frequently, at least every two hours, and more often if children are dipping in and out of the pool, ocean or lake-or running through the sprinkler.
Make sunscreen application a part of the daily routine… and make sure you put on sunscreen too because kids will imitate parents
---
Gear up with Sun Wear
Keeping skin covered with clothing that has UPF 50 protection is a great way to ensure less skin is exposed to harmful UV rays.
I am obsessed with UV sun shirts for kids.
First of all,  most of the ones rated UPF 50+ are an effective UV protectant and have a UPF 50 protection blocks 98% of UV rays. So if you can't put on sunscreen enough, these can be a good back-up.
They also usually wear really well – standing up to sun and chlorine – and don't get out of shape like a regular t-shirt would in the water. As a bonus they work as a great rash guard under life jackets which can tend to chafe kid's arms when worn for a long time in the water.
I like long sleeve ones in neutral colors because they match a variety of different bathing suit colors.
HERE ARE OUR PICKS FOR SUN SHIRTS:
---
Sun Hats for Babies
Your baby has extra special sun protection needs because their skin is so delicate. Also, sunscreen is not recommended for babies under 6 months of age so you have to use other forms of sun protection.
Sun hats come in a variety of colors and designs for boys and girls. Look for hats that are UPF 50+ and extra wide brims or neck flaps that can protect more than just their head.
HERE ARE OUR PICKS FOR SUN HATS:
Tips for sun hats for babies on boats:

Start babies young with sun hats and they will be more likely to want to wear them
Chin straps are helpful on a boat when it is breezy so you don't lose their hat
Stash hats everywhere – diaper bags, boat cabins, pool bags and in your car so you always have one handy
---
Seek Shade
If you have kids on board you need to have a good place for them to hide out from the sun. Canvas for your boat is essential! And if you don't have enough shade coverage its a good idea to figure out a way to add more to your boat so you are covered as much as possible.
Depending on your boat type you may want to do a permanent or temporary shade structure on your boat – important thing is to give your kids more shade and sun protection!
Don't forget to seek shade for eyes too. Sunglasses for younger kids can be a challenge to keep them on their face, especially babies & toddlers. Shades with straps can make a big difference protection your little one's eyes from the sun on the boat.
HERE ARE OUR PICKS FOR SUNGLASSES:
---
Be sure to share or pin this post for later!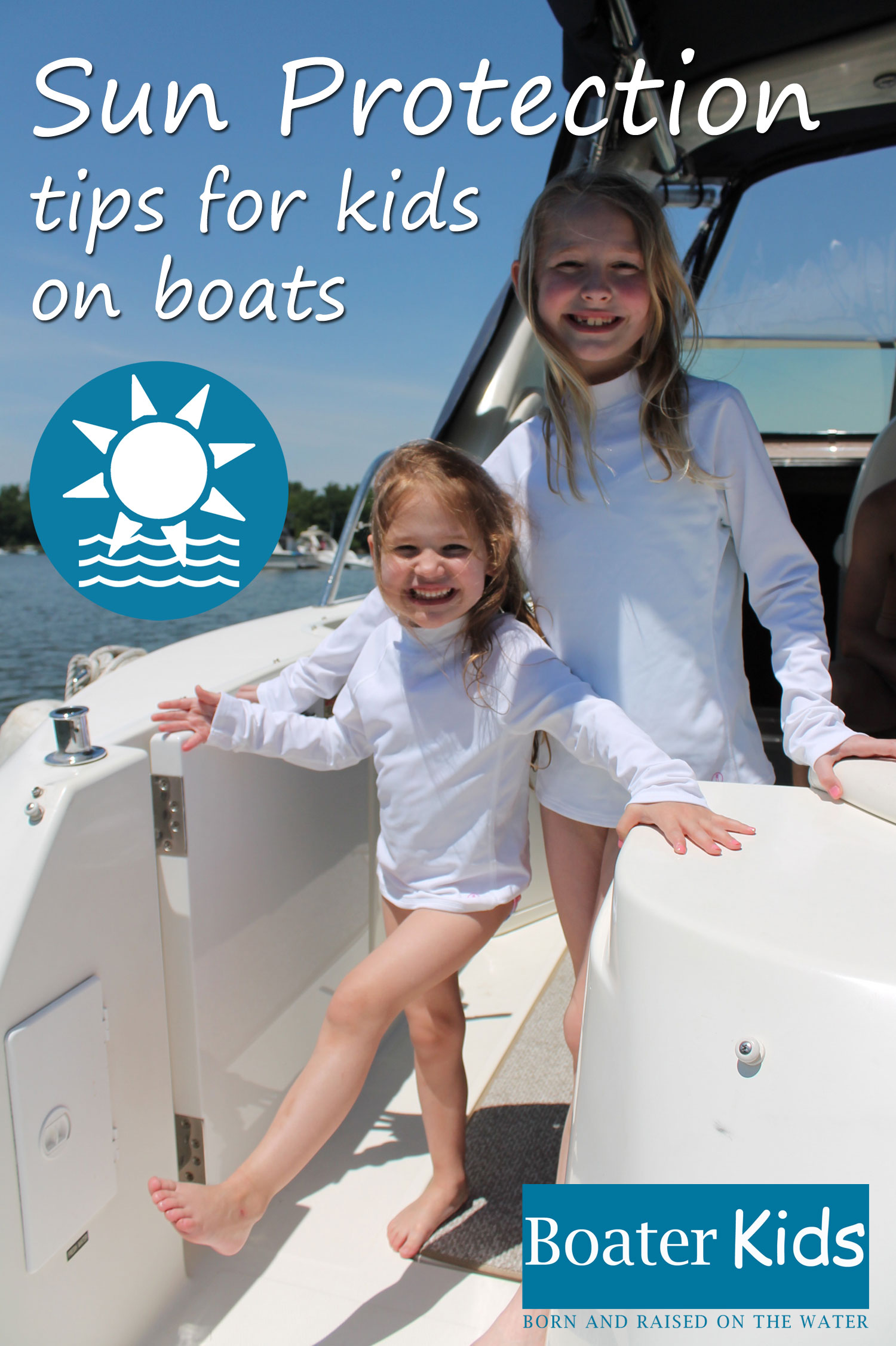 Disclosure Policy:
This site may contain links that are affiliated with companies where we receive compensation.
Full disclosure policy
.