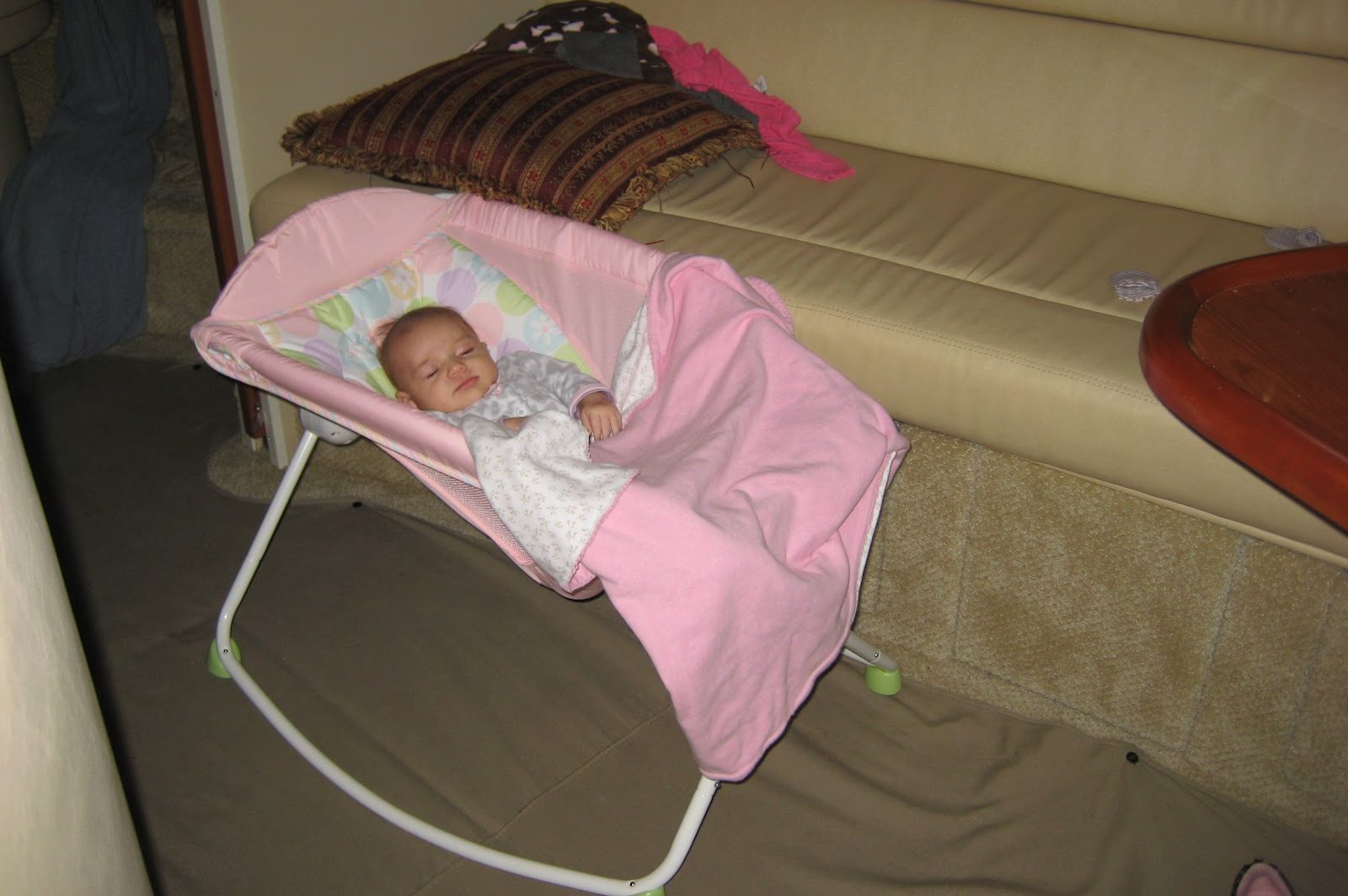 ---
---
Safe and portable bed choices for a newborn infant or baby sleeping inside a boat cabin that are also compact for tight quarters.
Cabin space is so limited on a boat, and choosing a proper bed for your new baby can be a challenge. It needs to be compact and portable, yet safe for your baby to sleep in while on board.
The good news is that babies and infants tend to sleep very well on a boat. The gentle rocking of a boat and slight water movement can be very soothing and calming for a baby. Both of our babies slept their longest hours through the night for the first time on the boat (including one that had a bad case of colic.)
With two kids that have been sleeping on board our boat since they were both only a few weeks old, we have experience with a variety of sleeping arrangements for babies and newborn infants on a boat. As long as you have a boat large enough to have a cabin there is no reason why you can't have your baby sleep on the boat with you for daytime naps, weekend overnights or even live-aboard boating.
Having a baby sleep on a boat can be both safe and easy with the right baby gear. The biggest challenge is often finding the right bed option for the tight quarters of a boat cabin that is safe and appropriate for the age of your baby.
Portable Baby Beds for a Boat
There are several baby bed options to choose from that are ideal for a boat or other travel scenarios. Here are some of my favorite choices for good compact and portable bed options for a newborn baby or infant sleeping on board your boat.
Co-Sleepers
A foldable co-sleeper is a good choice for a newborn baby on a boat because it takes up no floor space – perfect for small cabins. The sleeper is very portable and folds up into a small self-carrying case when you are not using it (or need to take it when you travel somewhere else).
The co-sleeper can be safely placed on an aft cabin bed area of a boat, or alongside you if you have space. For our first baby, we used a co-sleeper on the boat until she began to outgrow it at about 2-3 months old (she started to creep out of it a bit during the night).
Bassinets
Bassinets are a good choice because they usually have a small footprint and can be placed near you but not directly next to you in bed. for a portable co-sleeper and a safe and comfortable place to lay down a baby.
I like that it has multiple purposes – handy for a boat for a safe and comfortable place to lay your baby down. Some are also good options for having the baby next to you in the cockpit (NOT underway) and include a canopy that protects baby from sun and bugs.
We used a rocker/bassinet that we bought specifically for the boat. It was a lifesaver for our baby when she had colic because it slightly elevates the head. The design also makes the baby feel snug and secure. When she was fussy we could put her in it and rock her back to sleep.
Portable Play yards & Cribs
If you have room on your boat for a portable crib or play yard, they come in handy as your child grows but is still too young to sleep in a berth. Choose one that is compact and has a small footprint if possible.
Here are some baby bed products we recommend:
Here's a quick demo video of how we used the Fisher Price Rock and Play Sleeper on our boat… you'll see that you do need a little bit of floor space for it, but not nearly as much as a pack-n-play, so it should fit in nearly any boat with a cabin. (Note the style on the market now is slightly different).
Boat Beds for Older Babies and Toddlers
As much as you don't want to hear it, there is no better and safe baby bed option than a pack-n-play for babies older than 6 months that can sit up and move around. You will need to find space for a pack-n-play on your boat. And you will probably need it from about 6 months to 2 or 3 years old.
Read on for some good options for more compact pack-n-plays for boats…

Disclosure Policy:
This site may contain links that are affiliated with companies where we receive compensation.
Full disclosure policy
.
---
---
---
The following two tabs change content below.
Latest posts by Diane Seltzer (see all)