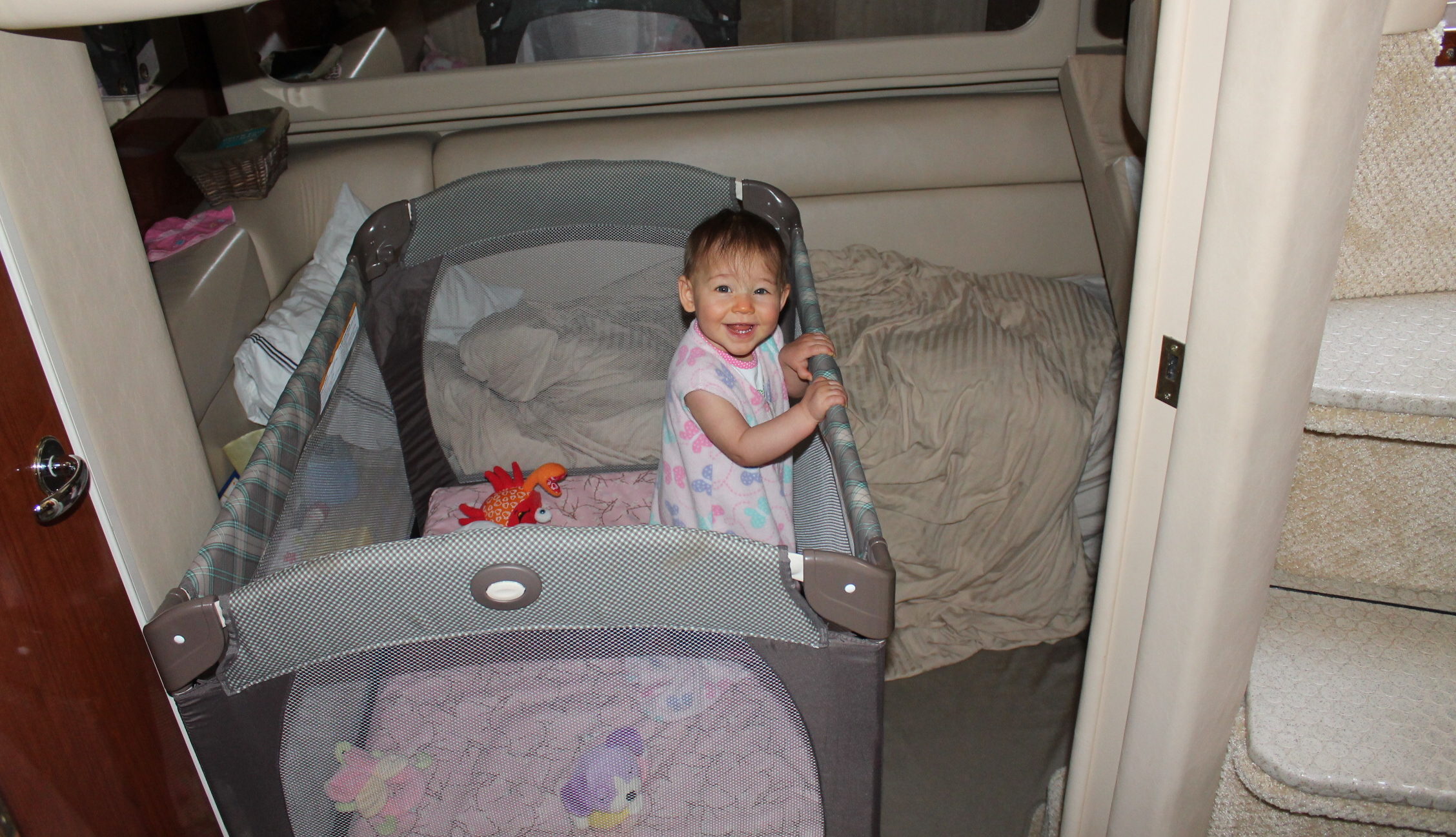 ---
---
Options for making space for a pack-n-play so your baby or toddler will sleep soundly on board a boat – how we made one fit and product recommendations for your boat.
Space is a premium on all boats – no matter how small or big your boat. But when your baby is too big for an infant co-sleeper, yet not quite big enough to sleep alone in a berth, a pack-n-play may be your only option.
The good news is that bringing a pack-n-play on board your boat is only a temporary situation. Depending on what time of the year your baby was born (and how long your boating season is), you may only need a pack-n-play for a few seasons. You'll likely need a pack-n-play from when your baby is old enough to sit up and roll over (5-6 months old) until your toddler is about 2 or 2 1/2 years old. After the age of 2 it will be hard to keep most toddlers in a pack-n-play.
Both of our kids were born in the summer. We used an infant sleeper on our boat the first summer they were born, and then moved them into a compact pack-n-play the following two seasons. The summer they turned 3 we had them move into the bed in the aft cabin.  And yes, we were very happy to say goodbye to the space stealing pack-n-play.
Where to Place a Pack-n-Play on a Boat
One of the biggest problems with having a pack-n-play on your boat is that it will not fit in most private cabin areas due to the amount of floor space required. This can really cramp your style by having a pack-n-play in the middle of your salon… tip toeing around your cabin during naps and early bedtimes… but for many boat layouts there are no other options.
In come cases you will need to make more floor space inside your cabin by removing tables and table poles. Or, you may need to take furniture off your aft cabin style boats that has extra barrel chairs in the salon.
For our first baby, we had a smaller 30 foot cabin cruiser with one wide open salon, forward and aft cabin area. The level floor actually made it very easy to slide a pack-n-play into the aft cabin area with the aft bed in sofa position. We also did not need to use the aft bed for another child so it was perfectly fine to block the aft area of the cabin with the pack-n-play.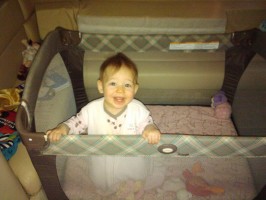 For our second baby, we had stepped up to a 41 foot cabin cruiser – a 2002 Sea Ray 410 Sundancer with a salon and private aft and master staterooms. We thought we would have much more space for two kids, with the ability to have the pack-n-play in the aft stateroom.
Turns out it was actually harder to accommodate the pack-n-play because our 410 Sundancer had a step down aft stateroom and the floor was not level to accommodate all four legs of the pack-n-play. We could try to place it in a horizontal position alongside the couch, but then it blocked the entire aft stateroom and our older daughter could not sleep on the sofa alongside the pack-n-play.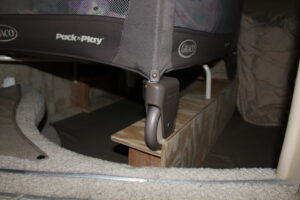 The solution was building a small platform that would create a level area for the pack-n-play.
It was a large U-shaped structure that had a ledge on the edge to keep the pack-n-play from sliding off the platform. It was made with heavy pressed wood so that it would not slide around and was strong enough to support the weight of the pack-n-play and baby.
We joked that it didn't have to be teak because it just had to last us two boating seasons.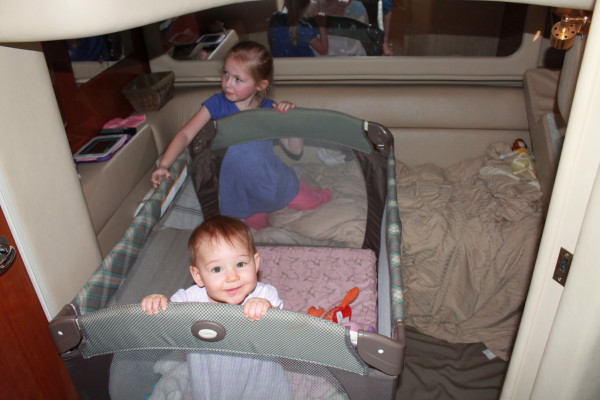 Positioning the pack-n-play this way gave just enough room for our older daughter to walk past it and sleep on the couch in the aft stateroom. Most importantly, it provided us enough clearance to close the pocket door at night when the kids went to sleep or when the little one was napping during the day.
Having our pack-n-play on a platform was a huge help during nap time when we tend to go in and out of the cabin a lot… we didn't have to worry as much about waking our daughter while she slept in the pack-n-play tucked away in the aft cabin.
Compact Pack-n-Plays for Boats
To make your pack-n-play fit on your boat you may find that you'll need to buy a more compact. Either way, you'll likely need to buy another pack-n-play specifically for your boat so you can just leave it set-up for weekend use without having to pack it up and bring it back every weekend.
There are many other portable baby bed options that are good options for slightly older babies. As babies learn how to sit up, roll over and generally move around more they need a slightly bigger baby bed. Until a baby is almost 2 years old, I think they need to be in some type of baby travel bed when sleeping on a boat to be safe. This is when it gets particularly challenging with the small amount of floor space you have on a boat.
Here are some good travel baby beds that would work well with for babies and toddlers in need of a pack-n-play to sleep on a boat:
Once our kids outgrew the pack-n-play we were able to ditch the pack-n-play on the boat and have both kids sleep in the aft cabin.  It was definitely worth it having the right kind of sleeping arrangements on the boat… but of course we were SO happy to have our much needed floor space back in the cabin!
Here's how we squeezed in the rocker bassinet when we needed one!
Looking to buy more baby stuff? Add Baby Products to a Registry on Amazon:
Shop Amazon – Create an Amazon Baby Registry
Disclosure Policy:
This site may contain links that are affiliated with companies where we receive compensation.
Full disclosure policy
.