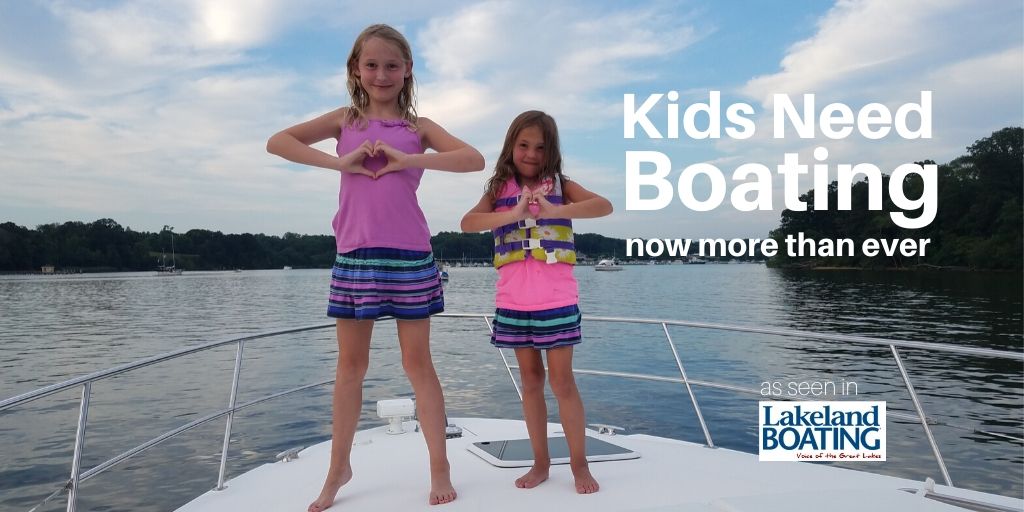 ---
---
In a world of uncertainty, kids are yearning for the calming effect of boating
All our lives took a detour from normalcy this year as a result of the 2020 COVID-19 pandemic, and the impact on our kids has been no exception. After months of social distancing and adapting to remote schooling, thoughts of the boating season ahead has become even more desirable than past years.
The only good part of "quarantine life" during the months of shutdown has been the ability to stay safe at home as a family. But of course, there's only so much family time stuck in the house our kids can handle before boredom and the desire for a change of scenery sets in. As boaters, we are fortunate to have an escape.
We don't know what the summer of 2020 will be like yet, but we sure are thankful we have our boats as a getaway. Of course, we suspect this year's boating season will be a bit different. Our summer plans for boat trips may change and there may be more restrictions at our marinas. There will likely even be a continuation of social distancing that will extend to the water in the form of "nautical distancing".
The one thing that we can be certain, our kids will be very grateful to at least get out of the house and get back on the water with their families.
A safe place in a world of uncertainty
Boating has always been a welcome escape from the stress and anxiety from our everyday lives. But now more than ever, your boat becomes a place of tranquility and peace.
Anticipating the arrival of boating season has been the light at the end of the tunnel for boaters. Feeling the fresh air, seeing the sights of nature and listening to the gentle flow of water can be a big stress reliever after experiencing months of quarantine.
For kids, being on the boat brings a sense of freedom and calmness that is especially needed in this time of uncertainty. The pandemic not only impacted their daily lives, but it has also been a scary time for kids. The boat can be a comforting and familiar place to ease anxiety from all the changes they have been forced to endure in their lives. If they didn't fully appreciate boating before, they will now.
We've taught our two girls since they were little to appreciate our family time on the boat. "Not everyone is lucky enough to have a boat like we do," we often tell them. They know it's special. They know that the time we spend together as a family on the boat are some of the best memories of their childhood.
We are so fortunate that boating is a shared passion that can bring us even closer together as a family – offering a bright, secure oasis in a somewhat gloomy time.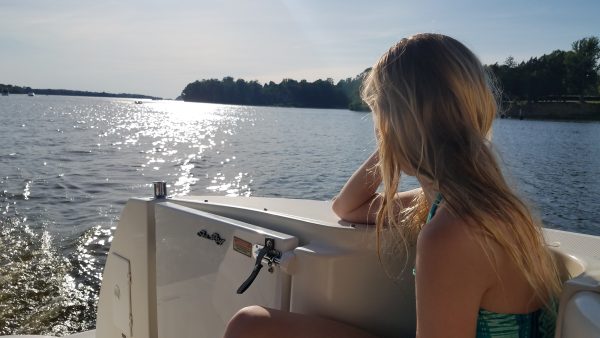 Making the most of the season
Our boat kids are the product of their boat parents – they start thinking about boating season as early as winter, and then it ramps up into a near frenzy of excitement come spring. We all can't wait to splash and get the season started. But for many, the start of boating season has been delayed this year, shortening the already limited number of precious boating weeks and months. The best we can do is ensure we make the most of our time on the water.
Our kids love boating and each year they have big expectations as they set out to embrace all that they love about our boating lifestyle. We're hopeful we can do as much as possible on their summer boating bucket list.
If we can't go on boat trips to our favorite waterfront destinations, we'll plan to venture past our usual anchorage spot to explore new coves and scenery. We'll soak in the sun, cast a line, set a crab trap or hunt for clams. We'll swim in the water, do endless swim platform jumps, work on our paddling skills and end our days admiring amazing sunsets.
Boating gives your kids the ability to appreciate the outdoors and connect with nature in new ways every year. This year may be a bit different, but I have no doubt that we can all still create summer boat experiences that will become lifelong memories for kids to treasure with their family.
This article originally appeared in the June 2020 issue of Lakeland Boating  magazine. As a boater with two boat kids I am thrilled to share my experiences in a summer Boating with Kids column for the regional boating magazine Lakeland Boating.
Disclosure Policy:
This site may contain links that are affiliated with companies where we receive compensation.
Full disclosure policy
.