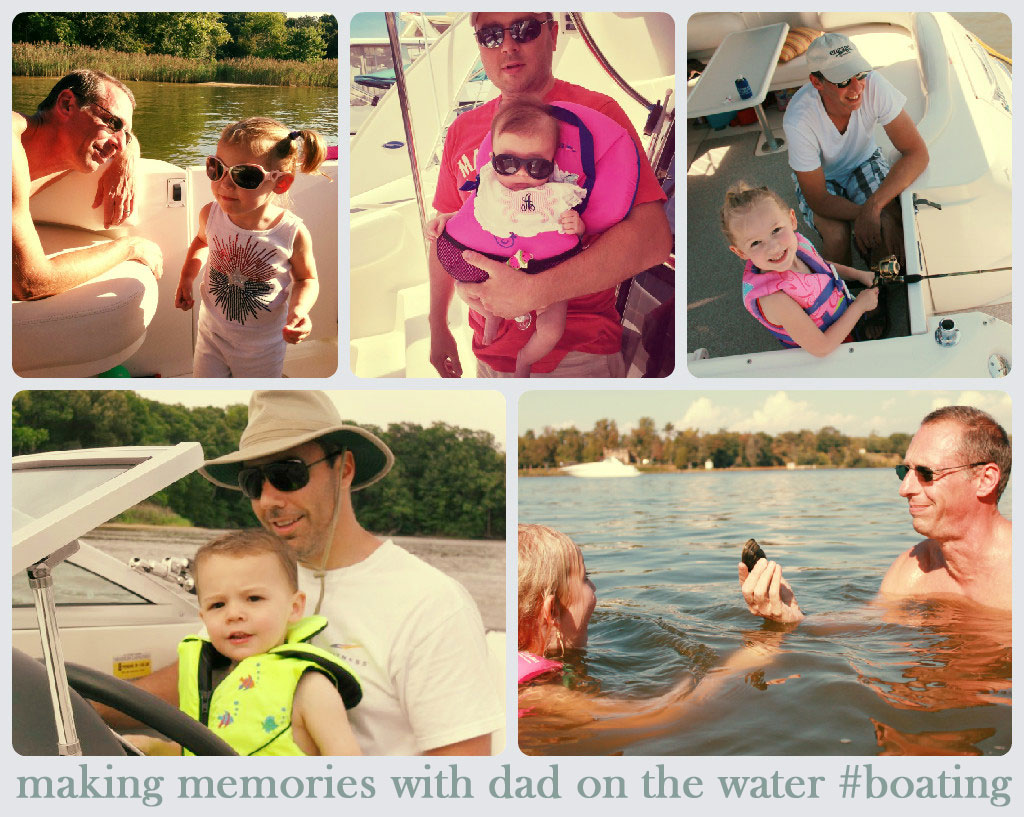 ---
---
Ways your kids can share special moments on the boat with Dad
Those iconic "dad moments" that your kids will always remember are most likely happening on your boat. Taking the boat for a cruise, casting a line, digging for clams in the bay… these are the classic moments for Dad and the whole family to treasure.
The boat is Dad's happy place, and it's a place where both your kids and their father can share some really special moments together… creating memories that will surely last a lifetime.
So if you're looking activities on the boat that are sure to please Dad (and the whole family) here's a round-up of some ways to create boating memories with Dad.
---
Join Captain at the Helm
Let your kid sit with Dad at the helm when going for a cruise. Sitting at the helm is a great place to sit on board and learn about navigating waters, boating rules and experience boating with Dad.
Spending time behind the wheel of the boat will give them a head start when your children are old enough to start getting ready to earn a boating license. They are never too young to start learning about boating safety!
---
Fishing with Dad
There is nothing more iconic than going fishing with Dad! Fishing is always a great boating activity to enjoy with Dad… reeling in a catch from the boat or just spending time catching up with each other on the dock. Whether teaching kids to fish on the boat, going crabbing by the bay or taking the family on a full-day fishing trip, it can be the ideal way to make lasting memories.
Maybe it's time to explore a new fishing location? TakeMeFishin.org just released a list of the top family-friendly boating and fishing locations across America based on votes from outdoor enthusiasts. Use the list to find a new favorite spot for the while family to enjoy (ideal for trailered boats where you can easily check out new spots on the water).
---
Watersports
If your kids are a bit older, then an afternoon out on the boat enjoying watersports like tubing, jet skiing or water skiing is sure to be an action-packed day of fun. Dad gets to crank up the RPMs taking the boat for a spin will your kids go for the ride of their life and scream with excitement.
OK… if you are looking for some more low-key watersports ideas, try going for a canoe or kayak trip to explore new areas on the water. it can be great exercise, give you a chance to explore new areas and allow for some real on-water bonding time.
---
Explore Nature
Take some time to appreciate your natural environment on the water.
We spend a lot of time on the boat doing things like bird watching (there are so many cool birds to see and try to identify) or collecting treasures (how many clams can you dig up while anchored out or how many cool rocks can you find by the shore?).
BONUS: It's a great opportunity for Dad to share all his cool science facts!
---
Raft-up, Anchor-Out, Cook-Out
While these one-on-one activities are always a good way to have fun with the kids, sometimes a good 'ole fashioned raft-up enjoying time with family and friends on the boat is a great way to spend time together as a family.
Find the perfect spot to spend the afternoon for a floating party on the water. Drop the hook, go for a swim and fire up the BBQ for dinner on the water.
---
Boating Gifts for Dad
Looking for special boating gifts for Dad for the holidays or Father's Day? Check out our round-up of Boating Gift Ideas for Dad on BoaterLifeOnline.

Disclosure Policy:
This site may contain links that are affiliated with companies where we receive compensation.
Full disclosure policy
.
---
---
---
The following two tabs change content below.
Latest posts by Diane Seltzer (see all)