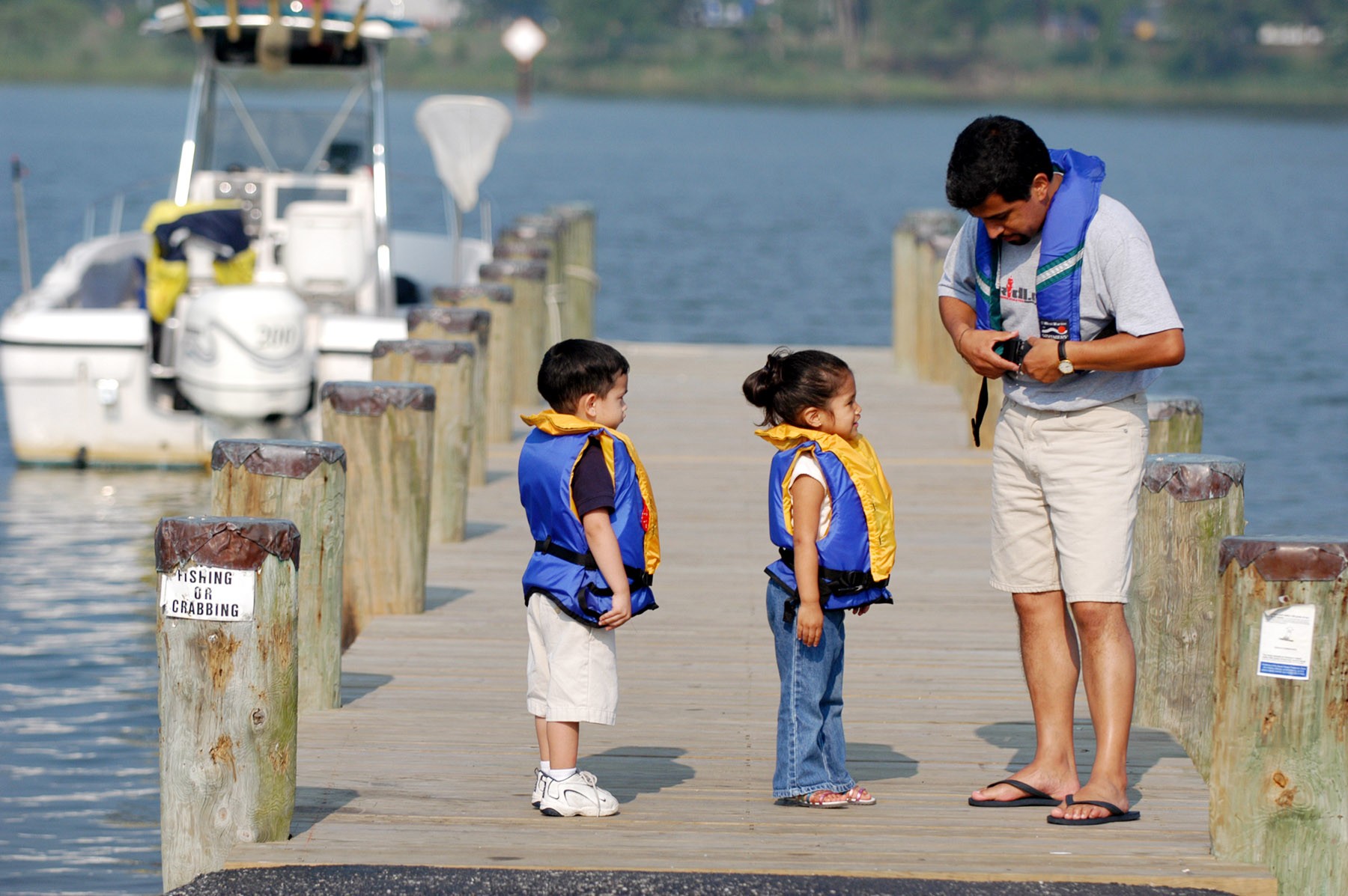 We focus a lot on boat safety for kids, but as parents are we always setting the best example for our kids on the water?
Yes, kids should wear life jackets when walking down the dock, cruising on a boat (particularly a smaller boat) or even when you are anchored out swimming in the water… you want your child to be safe on the water and in many cases it is the law for kids to wear life jackets. But how often are YOU as parents also wearing life jackets?
Admittedly, I rarely wear a life jacket, but I am not often in situations where I am putting myself or my children at risk. We have a 40 foot boat that really does not require an adult to wear a life jacket. If we are anchored out where I cannot stand, then I put on a life jacket. If we were to cruise on a dinghy or small boat I would wear a life jacket (along with my kids). However, I do think that there are situations on the water where adults should wear life jackets along with their kids.
Situations where adults should consider wearing life jackets include:
Smaller Boats
Personal watercraft
Dinghy boats
Stand up Paddleboards
Swimming in deep water
Offshore cruises
Rough seas or bad weather
There are also several reasons why wearing a life jacket as parents along with our kids is a good idea.
1. Setting a Good Example
It may be much easier to insist that your children where life jackets if you are wearing one too. You are not setting a good example for your children when you require them to wear their life vests and you do not wear yours. Take this opportunity to set a good example for your kids to follow.
2. Be Prepared for Emergency Situations
Parents may believe that they can get to their life vest if something comes up. The problem is, when something comes up, you will being tending to your child and may not have time to get your life jacket out from under the seat and get it on. The most common small boating accidents are sudden on-set cases where something was struck or sudden capsizing (there are over five hundred small boat capsizes each year in the United States).
3. Safer Control of Your Child
If you go into the water with a child wearing a life jacket you will naturally hold on to that child. Thinking that you can stay afloat by holding your child's life jacket is dangerous for both of you. If there are swells larger than three feet, you will submerse the child's head if you try to use his life jacket for flotation. It cannot support both of you.
A foam life jacket will only provide 15 lbs. of buoyancy, which is enough to keep an adult on the surface in calm coastal waters. But move offshore with swells at three feet or higher and your head will bob under each time you reach the bottom of the swell.
Life Jackets for Adults
Most adults consider themselves good swimmers and feel they do not need a life jacket. But in many situations (as noted above) a life jacket is a smart decision for your safety and the safety of your children.
Luckily the days of boxy orange life preservers that no one wants to wear are over. There are lots of comfortable choices like neoprene watersports vests or inflatable life jackets for adults on the water.
For Adult Life Jackets check out our Boat Safety Shop on MyBoatLife.com
Disclosure Policy:
This site may contain links that are affiliated with companies where we receive compensation.
Full disclosure policy
.