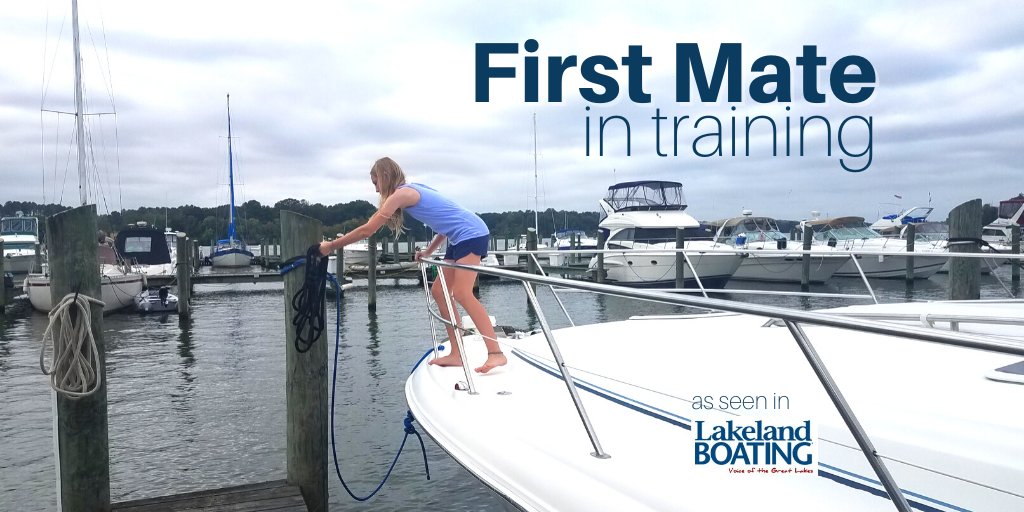 ---
---
Encouraging kids to step up to more responsibility while boating – and developing a deeper appreciation for the boat life
When our kids were younger their main "job" on-board the boat was to simply listen to the rules while the first mate and captain (mom and dad) would do all the heavy lifting of docking, cruising and anchoring. But now that our kids are getting older, they are eager to learn the ropes and become a more active member of our family crew.
The most logical first step for kids to take on more responsibilities is as a "first mate in training" by shadowing the first mate to learn how to do important tasks on the boat. As they gain confidence and acquire new boating skills their new role becomes a learning experience that sets them on the path to an even deeper appreciation of their boat life.
Life lessons on the water
My first experience in a "first mate" role did not happen until I was as an adult and had to literally learn the ropes while we were learning all about our first boat. At the time I had only been dating my [now] husband for about a year when we both had to quickly learn how to dock, maneuver and maintain a boat… and boy was it a test for our relationship! The experience taught us the importance of teamwork, communication, patience and trust in each other's abilities to ensure we were successfully performing our duties as captain and first mate of the ship.
With your kids, these same qualities of communication, patience and trust are important as you share your knowledge of boat skills. Choosing age-appropriate tasks and easing into new responsibilities where kids can safely learn at a gentle pace is important.
When kids step up to new responsibilities, they realize that going to the boat is about more than just having a fun day out on the water – it's about learning what it takes to own a boat, care for a boat and operate a boat. These moments teaching your children will create a lifetime of knowledge.
An early sense of responsibility or duty will also increase your child's connection with boating. Usually it is a hands-on activity showing a proper technique – or showing how things can go wrong – where kids learn best.
Memorable first experiences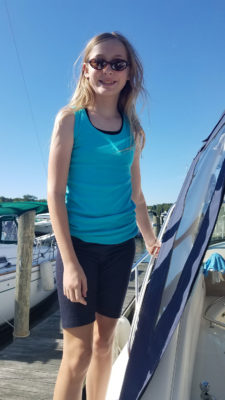 This past season, my 12-year-old daughter had her first experience stepping in as first mate. Some issues with our generator required taking a boat trip to another marina and leaving it there for at least a few weeks. This became the perfect opportunity for our daughter to travel with her dad on the boat and fill in as first mate, while I drove our car there to ensure a ride home from the marina.
On our boat, first mate duties range from handling the bow lines at the dock to managing fenders or assisting in navigation. I had already started giving my daughter little lessons on the water over the past few summers… letting her join me on the bow to assist with the lines and teaching her about how to look for debris in the water when cruising. We knew this was the year she was ready to take on the challenge of filling in as first mate.
I will admit I was a little nervous not being onboard as the two embarked on their hour-long journey. It was the first time she was on the bow throwing lines onto the piling without me by her side, and it was the first time she was assisting with navigating and tying up at a new marina. But as I watched my husband and daughter sitting together at the helm getting smaller and smaller into the distance, I felt so pleased that they were going to experience this great adventure together. (Watch the video with highlights from this trip below!)
The maiden voyage with my daughter was such a success that several weeks later they did the return cruise back to our home marina. I was so proud that my aspiring first mate handled her role on the boat in such a responsible and confident manner. Most importantly, I was thrilled to see that taking on these new responsibilities enabled her to experience a new appreciation for boating.
Talk to your kids about what new responsibilities they might want to take on this boating season. Their eagerness to learn coupled with their enthusiasm for boating just might make it the perfect time for them to lend you a hand… or even step into the role of first mate.
This article originally appeared in the July 2020 issue of Lakeland Boating  magazine. As a boater with two boat kids I am thrilled to share my experiences in a summer Boating with Kids column for the regional boating magazine Lakeland Boating.
Watch the Video
Here's a video with highlights from our daughter's first boat trip as first mate.
Disclosure Policy:
This site may contain links that are affiliated with companies where we receive compensation.
Full disclosure policy
.