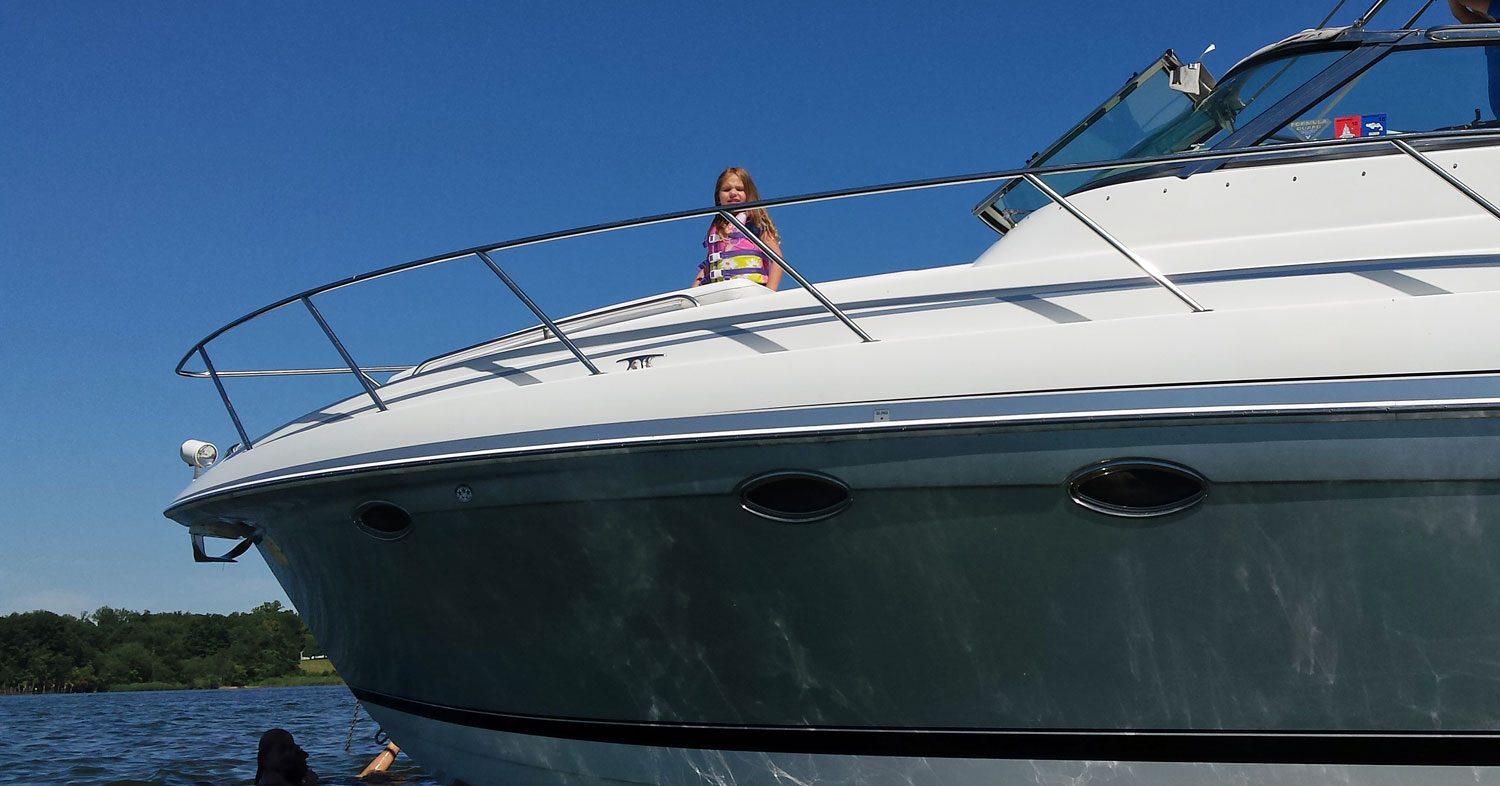 ---
---
Big vs. small boats – choosing the ideal boat size for a family with kids on board
Over the years I have seen families with kids on all types of boats in all size ranges… from smaller bow-riders to larger cabin cruisers (even a few that some would categorize as a "yacht").
What size boat is best for your family? It really depends on how you use your boat, how much space you may need in a boat cabin and how much family "togetherness" you may want on board. I'd also say that safety is a concern with kids – so the size of your boat (and even style of boat) definitely influences different safety precautions you may need to take when boating.
I would classify a "bigger boat" as anything over 35 feet. You may classify it differently – like anything with a cabin or a boat with multiple staterooms – or you may simply have a different threshold for "big" vs "small" boats. Either way, my considerations for choosing the ideal boat size when you have kids should get you thinking about what is right for your family.
Here are some pros & cons for small vs big boats I suggest you consider when choosing a boat size for your family.
Cabin Size
Do you go out for day trips or do you want to spend several days at a time on your boat?
We are weekend boaters. We go to the boat on Friday and head back home on Sunday. So our boat is very much our "weekend home". We live on the boat every weekend during boating season and cabin space is important to us.
When we had our first kid we were quite happy with our 30 foot cabin cruiser. Yes it was a bit of a struggle getting her pack-n-play on the boat, but it was a cozy little family of three on board. Shortly before we decided that kid #2 would come along we felt that it was time to go bigger and upgraded to our current 41 foot cabin cruiser.
Smaller Boat Cabins
With smaller boats you may not have a cabin at all – or you might just have the basics (like some storage and a head). Every go anywhere with a potty-training kid and not have easy access to a bathroom? I would make sure your boat at least has a head on board if you have kids. A place to lay down for a nap is also important. A day out on the boat can get very tiring for kids, especially if you still have a napper.
Bigger Boat Cabins
Kids need room for all their stuff and a bigger boat with a bigger cabin lets you bring more "essentials" on board. If you have a baby or toddler, you'll need even more room for baby gear on your boat. Bigger boat cabins will also give you access to at least one stateroom for those all-important afternoon naps, as well as a head for kids that just can't wait to go.
Space and Comfort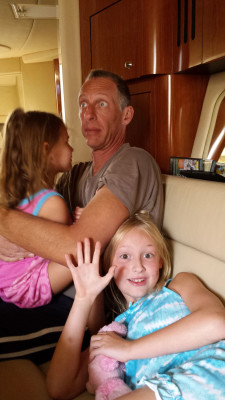 We live in a 4 bedroom house but when we get down to the boat we are literally within arms reach of each other.
The family together time and closeness is one of the things I like about spending the weekend on our boat. But we are glad that we have 2 staterooms on our 41 foot boat in addition to a nice sized salon with room for a family of four. Sometimes the space can be a little tight and you feel like you are all over each other.
(in my husband's defense, he is watching TV in this picture and not actually terrified that his kids are climbing all over him… or maybe a little bit of both LOL!)
Smaller Boat Comfort
With smaller boats you REALLY get that family time you are craving. Maybe you are the kind of parent that wants to be within arms reach of your kids when in the cabin. One family I know enjoyed that their "open cabin" layout did not have separate staterooms because they could see & hear their kids at any point in the night and the kids were more comforted with that as well.
From a cruising standpoint your kids will feel the wakes much more in a smaller boat – some kids like that, others may not. From a positive standpoint, many boats with smaller cabins have bigger cockpit areas with more seating – so everyone can spread out when enjoying your time above deck.
Bigger Boat Comfort
Bigger boats will definitely give you more room to enjoy your boat – in the cabin and in the cockpit. When we got our latest boat it was important to us to have a two stateroom layout with a pocket door on each stateroom so that we could all sleep uninterrupted. When the captain gets up early to make his coffee he shuts the pocket doors to each stateroom and relaxes in the salon. Seating in the salon is also more spacious – giving us room to hang out as a family or enjoy a meal.
When it comes to cruising a larger boat will provide a much more enjoyable cruise on the water – handling rough water and wakes much better. Our two girls are not into speed (despite us having a powerboat) so a slightly slower boat is better for us.
Boat Type & Functionality
How you use your boat with your kids should really be the number one influence when you choose the type and size of your boat. Are you a day boater or weekend boater? Do you enjoy going on longer overnight cruises or are your kids more interested in watersports activities?
Smaller Boat Functionality
Most day boaters are looking for a boat that allows them to have fun on the water with the family. This may be just anchoring out for a swim at your favorite cove or going tubing down the river. If so, a smaller sportier boat may be the best boat for you. A smaller boat will allow you to more easily tow an inflatable tube or waterski.
Bigger Boat Functionality
Bigger boats tend to provide a safer more comfortable cruise – particularly for longer overnight trips. My kids actually like to be inside in the cabin for longer cruises so they can lay down in the back stateroom and take a nap. Because our boat is bigger and heavier it handles wakes with ease, making a much more comfortable for our kids.
From a boat type standpoint, style is important but you should also consider how old your kids are and what type of boat is safe for your family. For example, if you have young kids a flybridge style boat with stairs to climb might not be the best option (for now).
Bed configurations are also a concern for families with small kids. Some older aft cabin style boats have a nice master stateroom in the aft but then they only offer an island forward berth as a second stateroom for the kids. Having two young kids climb up into a forward berth (ans worrying about them falling out) is less than ideal. That's why a split berth with two twins (or bunks) is ideal for families with two younger kids. Do they like to share a bed? Right now we have our two kids share a large double bed in the aft but at some point I see that becoming a problem.
Budget
The final factor when choosing between bigger or smaller may ultimately be your budget. In the case of budget the decision is often more about an older vs newer boat. If your family is looking for a bigger boat but you can't afford it, you might want to consider an older more affordable boat. You can find some great deals on boats that are 5 years or more older.
If your budget is still tight for a smaller boat you might want to consider joining a boat club that gives you access to boats for a monthly fee and you often get access to newer but smaller boats. And if you are not sure how often you may actually use a boat, boat rentals or peer-to-peer rentals (where you rent directly from another boat owner) are a great option for occasional boaters.
Like this post? Pin it and save it for later!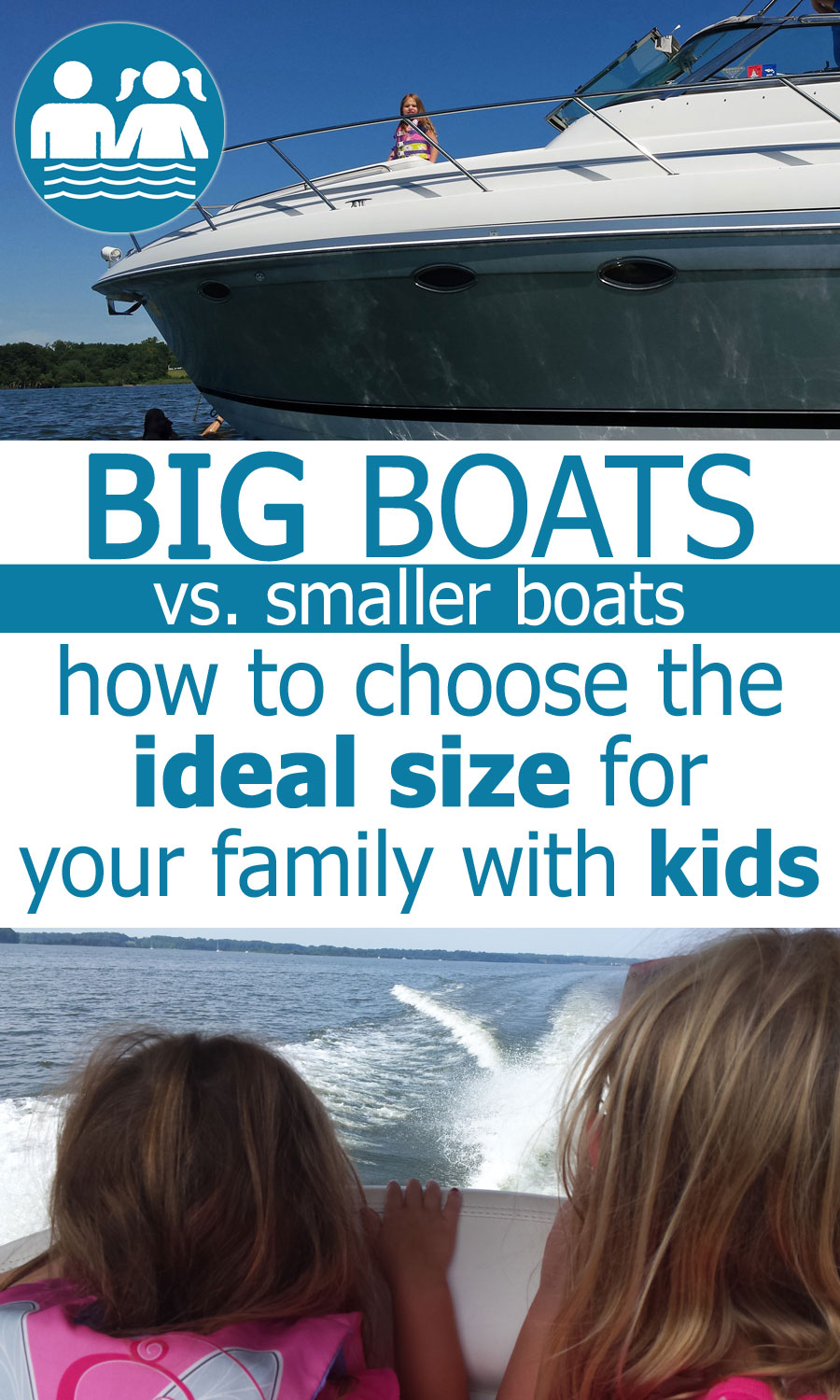 Disclosure Policy:
This site may contain links that are affiliated with companies where we receive compensation.
Full disclosure policy
.