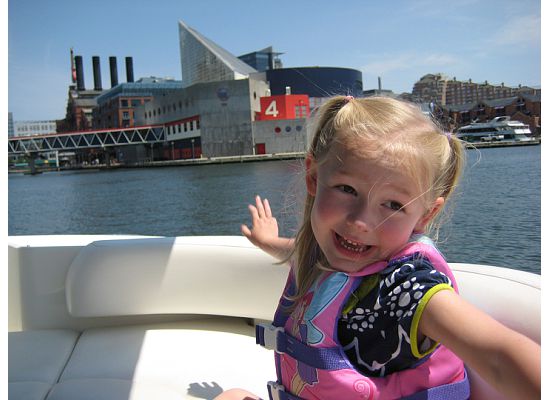 ---
---
Check out these fun and easy day trip boat ideas for an afternoon boating getaway on the water that your kids will love
My kids love any day on our boat – but sometimes its fun to mix up the routine and go somewhere or do something out of the ordinary. Those special days that you plan the unexpected outing or chart a different course of activities on the boat – those are the memories that stand out to our family and keep us loving the boating lifestyle.
Boating trips don't need to be a multi-day adventure. They can be as simple as cruising to a different destination then you normally do for an afternoon, or planning new activities out on the boat. Kids get excited about trying new things on the water and will enjoy something out of the ordinary.
Here are some fun ideas for boating day trips with your kids that will create memories for years to come.
1. Explore a new cove or anchorage
Almost every weekend we take our boat to the same cove to anchor out for the day (unless we have a bigger trip planned). We like our "spot", but sometimes it can be fun to try a new anchorage location. Even if its just down the river a few minutes further, or on the opposite side of the lake, it can be fun to drop the hook somewhere different with new scenery and water to explore.
2. Make a picnic on a beach
Have a good old fashioned picnic on the beach along the shoreline of a new destination (or even a familiar one if its easier). Pack all your essentials for lunch and find a spot to set up a picnic. If your boat is small enough you can pull up close to the beach, or you can drop anchor and transport everything to shore on your dinghy or raft. If its night (and allowed on the beach) you could even have a bonfire to toast marshmallows.
3. Go on a fishing expedition
A kid's fishing expedition can be as simple or as complex as you would like to make it. You can spend the day visiting different fishing spots if you want to make it more of a trip, or you can simply drop anchor at a new spot to see what you can catch. If you are not into casting a line, you can go crabbing or even hunt for clams in the sand. We have a cove we frequent that is great for digging up clams. The kids love seeing how big their clam collection can get (sadly they are too full of sand and not very tasty so we normally toss them back in!)
4. Learn about a historic waterfront
Chances are you boat near some well known (or not so well known) historic waterfront locations. Most waterfronts have a rich history as a fishing town or historical landmark… or you may be lucky enough to be close enough by boat for a day trip to an attraction like an aquarium or museum. Find a location worth exploring and make it an educational outing for your kids to learn about the history.
5. Have a kids scavenger or treasure hunt by boat
The kid's version of a poker run, make a scavenger hunt where you need to stop at multiple destinations to gather essential items and fulfill your hunt. They can even dress up like pirates to get into the spirit. You can get very creative and actually make up clues to solve that take you to a new boating destination – and then eventually to a final destination where a treasure chest of prizes awaits.
6. Plan a mega raft-up
Depending on where you raft-up for the day, this may or may not be a big boating trip. But that's OK – its about a fun activity on the water for the day. You could use the raft-up as an opportunity to visit some old friends that you haven't seen in while by making the boat trip to a location you don't normally frequent.
7. Join a boat parade
Many waterfront towns or marinas hold annual boat parades where you decorate your boat and follow a line of boats for a parade on the water. Our river holds an annual 4th of July boat parade where boats get decorated and parade past crowds gathered at marinas. Its a fun way to spend the afternoon as the kids wait for the evening fireworks – and definitely a short boat trip activity.
8. Visit a kid friendly marina
Visiting other marinas by boat is a good activity when the weather is not quite warm enough for swimming.  Pick a marina with a restaurant and facility that offers something for kids – like a nice playground. You can usually dock for free at marinas with restaurants for at least a few hours. So after lunch the kids can run around and check out a new spot.
9. Go on a boat tour
Don't have your own boat, or looking for something else boating related to do? Take a boat tour or charter when visiting a new town (or play tourist in your own). And it doesn't have to be a stuffy dinner boat cruise that would bore kids. If you are a power boater you can take them on a sailboat charter. Many local towns also have unique attractions that involve boats that kids will enjoy.
10. Plan a boat trip – destination unknown
Sometimes the best boat trips are the completely unexpected – where you don't quite know where you are going, but you'll know it when you get there. It can be fun cruising to new nearby rivers or coves and then dropping the hook. Or deciding to spend the night at a new marina so you can check out the town. Be sure to pack plenty of provisions so you can fully enjoy your spontaneous boat trip… especially if your day trip turns into a overnight one!

Disclosure Policy:
This site may contain links that are affiliated with companies where we receive compensation.
Full disclosure policy
.
---
---
---
The following two tabs change content below.
Latest posts by Diane Seltzer (see all)