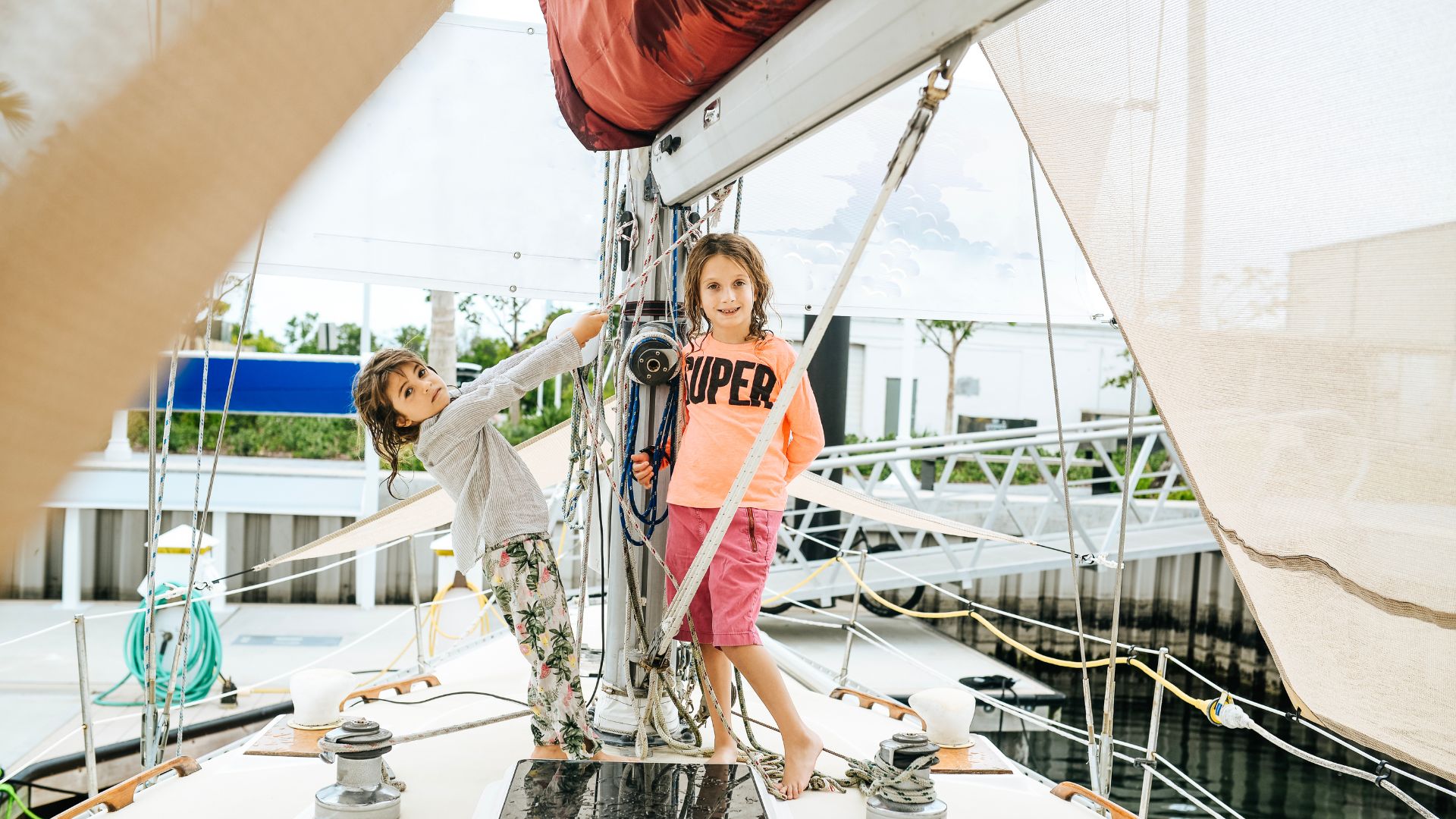 Sailing can be a fun activity for the whole family. After all, you get to explore the ocean, wander around to places where you typically can't get to, and just enjoy the sunshine and water. With that said, while sailing around might be a lot of fun for the parents, for the kids, staying in one place for hours on end is definitely a challenge.
As we all know, unlike adults, kids can't really "enjoy the scenery" or bathe in the sun – they want fun, and most importantly, they want activities. And so, in this article, we will talk to you more about how you can make sailing more exciting for your kids and also help them get their exercise in. 
Let's get started. 
---
---
Fun Boat Exercises for Children 
When you're a child, it's impossible to understand that you have to do something in order to get better tomorrow or to improve your health. Those kinds of slogans are helpful only for adults and even then, their effectiveness is limited. The best way to get kids involved in an activity is to make it fun for them. But what are the fun exercises activities that can be done on a boat? Let's check them out. 
Swimming 
Of course, the best exercise for children while they're near the ocean is swimming. If you stop your boat near a beach or somewhere where the water isn't too deep, it offers a great opportunity for both you and your kids to get swim in. On calmer days, learning how to swim in the ocean can not only be extremely beneficial but also loads of fun. You can jump from the board of the boat into the water, teach the kids how to dive correctly and show them how to swim the different styles.
Paddleboarding
Another great water workout that's also accessible for children is stand-up paddleboarding. If you let your kids start when they're little (even 4 to 6 years old), then they will quickly learn and adapt to the sport. It provides a terrific full-body workout, as you need to balance your body by using the strength of your legs, back, arms, core, and shoulders. If you've ever done it, then you know that it's no easy thing to do. It also works your feet, and you and your kids are bound to be tired after a few hours of boarding.
Dancing
This might sound a little silly at first, but having a dance party on your boat is one of the most fun and exciting summer activities. In order to make it more interesting for the children, you can get them to participate in the curating of the playlist, and you can challenge them to create their own choreographies. Additionally, you can get them to do dance battles so that it turns more into a sport-like competition. Even though we rarely think of it as exercise, dancing is actually a full-body workout that can have you burning tons of calories while also enjoying summer.
Different Forms of Cardio 
It's clear that you cannot have large fitness equipment on a boat, but things like jumping ropes, TRX trainers, and mini stepper are good to go. If you bring them onto your boat, they're a great way for both you and your kids to get a workout in. You can challenge them to do intervals or create a circuit workout that they have to repeat several times. Regardless of what you choose to do, bringing some form of gym equipment to your boat will ensure that you have some versatility and that you don't always have to rely on water activities to get a training session in.
Yoga
We all know that yoga has many benefits for us. It makes us more flexible, teaches us how to concentrate, and is also a terrific workout that engages all of our muscle groups. The other great thing about it is that it can be done literally anywhere, as long as you have a decent surface. Online, you can find many adapted yoga sessions that are made specifically for children so that they're both exciting, fun, and effective. That way, on days when the water is bad or when you just don't have the opportunity to partake in water sports, a yoga session is a terrific way to get the entire family exercising. 
In Conclusion 
Even though working out on a boat is a challenge, even for adults, it's not mission impossible. There are still plenty of ways to get both you and your kids active and engaged, even while sailing. Hopefully, with the help of this article, you got inspired to do just that, and now you won't spend the days just sunbathing or splashing with water guns. Instead, you will have them filled with fun activities that also help your children fall in love with movement and exercise.
Disclosure Policy:
This site may contain links that are affiliated with companies where we receive compensation.
Full disclosure policy
.