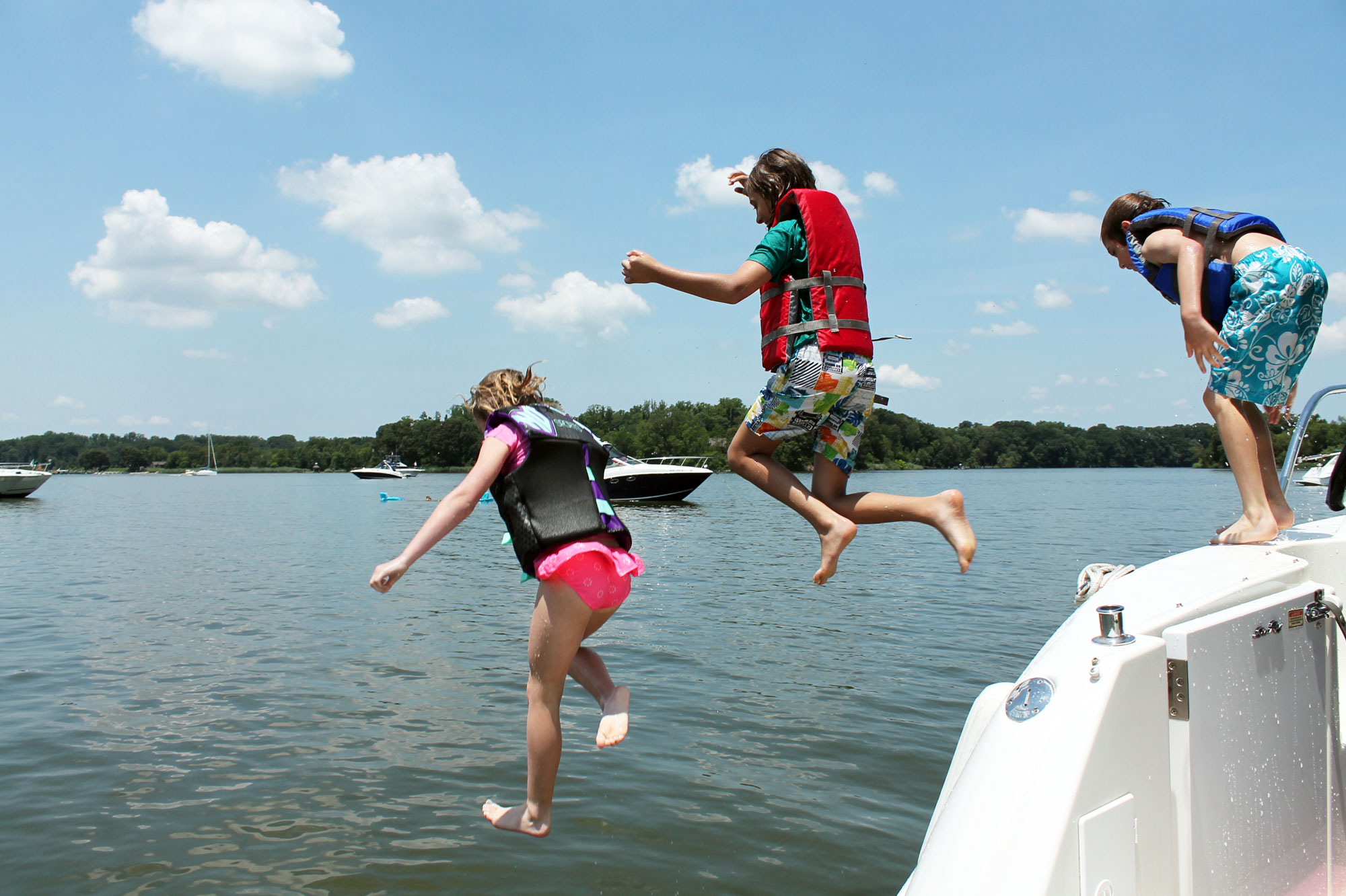 Are you prepared to invite your kids' friends to the boat? Tips for a safe and fun boat play date for kids. [As seen in Lakeland Boating]
Our boat time is all about family time, but we also really enjoy inviting friends to the boat. Sharing a piece of our boat life with our "land friends" is always a good time that seems to make us appreciate our days on the boat even more.
So it's only natural that as our kids are growing up they want to extend invitations to their own friends to join us at our boat. This issue is top of mind for me right now as we are making plans for some of our first "boat play dates" this summer.
While our two daughters have a great time playing together, they often tell us how much they would enjoy sharing their boating lifestyle with friends. Our oldest daughter is also anxious to take it a step further and entertain overnight guests on our home away from home.
We're excited for our kids to share their passion for boating with friends, but we can't help wonder… are we really ready for play dates at the boat?
There's a lot to consider when inviting other kids onto your boat. From water safety to ensuring proper respect of your on-board rules, boating is not your ordinary play date.
Water safety for all kids on board
Our kids have grown up understanding the basic rules of boat safety. They wore life jackets before they could walk and learned to always listen to the captain before they could talk. The rules of boating and boat safety have been instilled in our kids since they were born and are reinforced every time we go out on the boat.
Unfortunately, you often need to fast-track safety lessons with guests that are new to boating, which can prove somewhat challenging for kids. Kids need to understand the importance of following the rules to be safe while out on the water. You need to explain to them that following the rules doesn't mean that can't have fun, but rather your number one concern is that they have safe fun on your boat.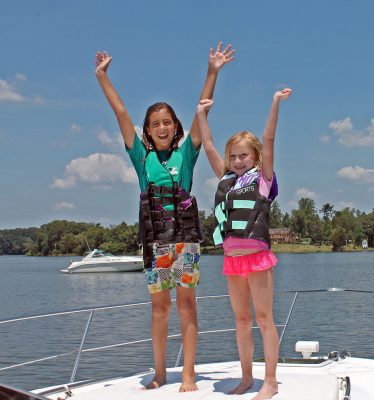 Our basic boat rules include:
Always wear a life jacket while cruising
Listen to the captain and follow any orders given
Stay seated when the boat is underway, especially when docking
Wear a life jacket or swim jacket while swimming behind the boat
Wear sunscreen and drink lots of water throughout the day
Have fun!
In addition to these basic safety rules, we also have some boat manner rules we enforce on our boat. These include things like: don't stand or jump on the boat seats, towel off after swimming and no rough playing near the water. Of course you may have more specific rules you want to add to the list depending on your type of boat or if you participate in other boating activities like water sports.
Make sure your own kids understand that despite having friends on board they must continue to follow the rules and ensure that their friends do as well (so they will be invited back again!)
Life jackets and provisions
Every boat should be equipped with extra life jackets for guests, but do you have proper life jacket sizes for additional kids? Check with the parents to find out their current weight so you can ensure the kids will have a life jacket that fits before a visit.
Additional provisions may also be necessary for visiting kids. You should be prepared with enough sunscreen, towels, water and kid-friendly food for everyone. You should also be prepared for any overnight guests with extra bedding and a plan for allocating space in the cabin.
Adequate adult supervision
The responsibility of watching someone else's kids while out on the boat should not be taken lightly. If you are unsure about how a child will behave under your supervision – or if that child's parents are even comfortable sending their kid off to a boat play date – then you should consider also inviting the parents.
Our first boat play dates have been full family entertaining. It gives us a chance to see how well behaved children are on our boat and it gives their parents a chance to understand what's involved in a day out on a boat. If things go well, then a play date without the parent is an easier next step.
Finally, my plan for our first visits is to also keep it simple and not plan any big boat cruises or excursions. It will be just an average day anchored out full of swimming and gigantic cannonball jumps off the swim platform. It's great that we can share these days with our kids, and even better that they are excited to share a bit of their boat life with their friends.
This article Play Dates at the Boat originally appeared in the August 2018 issue of Lakeland Boating magazine.
Cruising with Kids Column in Lakeland Boating Magazine
As a boater with two boat kids I am thrilled to share my experiences in a summer Boating Kids column for the regional boating lifestyle magazine Lakeland Boating.