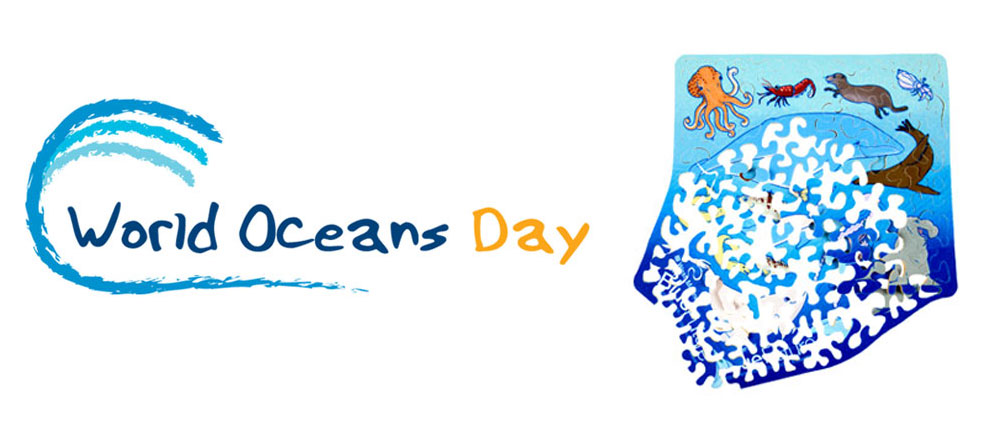 ---
---
West Marine invites young artists to send original artwork inspired by the 2017 World Oceans Day theme, "Our Oceans, Our Future"
Kids ages 5-18 are invited to create and submit their own original artwork inspired by the 2017 World Oceans Day theme — "Our Oceans, Our Future!"
World Oceans Day – "Earth Day for the oceans" – was started on June 8, 2003, with the goal of expanding public awareness of the importance of protecting our oceans and other large bodies of water. World Oceans day will be celebrated worldwide on June 8 every year.
West Marine will choose contest winners in two age groups, and the winning artwork will appear on cool "pieceless" puzzles available in select West Marine stores and in the world-acclaimed Mystic Aquarium in Mystic, CT.
All proceeds from puzzle sales June 5-11, 2017 will benefit West Marine's nonprofit BlueFuture Fund. Winners will each receive a $250 West Marine gift card as a prize for participating.
Contest deadline for entries is April 29, 2017.
Show us how "Our Oceans, Our Future" inspires you, and we'll help you inspire the world!
Contest Details
Here are more details on the West Marine World Oceans Day artwork contest.
Eligibility
Any U.S. student in kindergarten through Grade 12 may participate.
Age Categories
A winner will be chosen in each of two categories:
*Ages 5-12
*Ages 13-18
Judging and Winners
A panel of West Marine judges will review entries by age group and will choose a winner in each of the two categories. The two winners' artwork will appear on a special "pieceless" puzzles.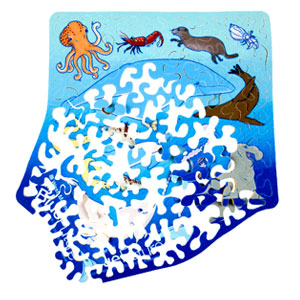 Artwork Theme
The theme for the 2017 World Oceans Day Art Contest is "Our Oceans, Our Future." Artwork can be realistic or abstract. Students may include people and animals in their artwork. Students also are encouraged to use bold colors and strong lines. We want to see what this topic inspires in you!
Signature
We ask that all contest participants sign their pieces of original artwork. The winners' artwork will appear on the "pieceless" puzzles with their artists' signatures.
Media and Technique Requirements
Any of the following media or techniques may be used:
*Paint (watercolor, tempera, poster, acrylic, etc.)
*Drawing materials (pencil, charcoal, colored chalk, pastels, oil pastels, colored pencils, markers, etc.)
*Prints (handmade stencils, gadget printing, collographs, block prints, etc.)
*Original digital illustration
Judging Criteria
A selection committee will review artwork submissions based on the following criteria:
*Interpretation of the theme
*Technical skill
*Originality
Copyright Law
Any artwork that depicts copyrighted images will be rejected. For example, artists may not depict characters from television shows, movies, video games or books. All artwork must comprise original ideas, created entirely by the student.
Entries
One entry per student. Click here for a complete list of contest Rules & Regulations.
Submission of Artwork
One entry per student.
1. Click here to download the World Oceans Art Contest submission form and complete it.
2. Print out the form and mail it, along with the original piece of artwork, to:
West Marine
Attn: Lindsey Johnson
500 Westridge Dr.
Watsonville, CA 95076
3. Submissions must include entrant's name, mailing address, telephone number and email address.
Deadline for Entries
All entries must be received no later than 5 p.m. (PST) on Saturday, April 29, 2017. Entries submitted after the deadline will not be accepted.
Notification of Finalists
Finalists will be selected by Monday, May 8, 2017 and notified shortly thereafter. World Oceans Day puzzles will be available June 5-11, 2017 at select West Marine stores. They will be available for purchase at a cost of $10 per puzzle, and all proceeds will be donated to West Marine's nonprofit BlueFuture Fund.

Disclosure Policy:
This site may contain links that are affiliated with companies where we receive compensation.
Full disclosure policy
.
---
---
---
The following two tabs change content below.
Latest posts by Diane Seltzer (see all)