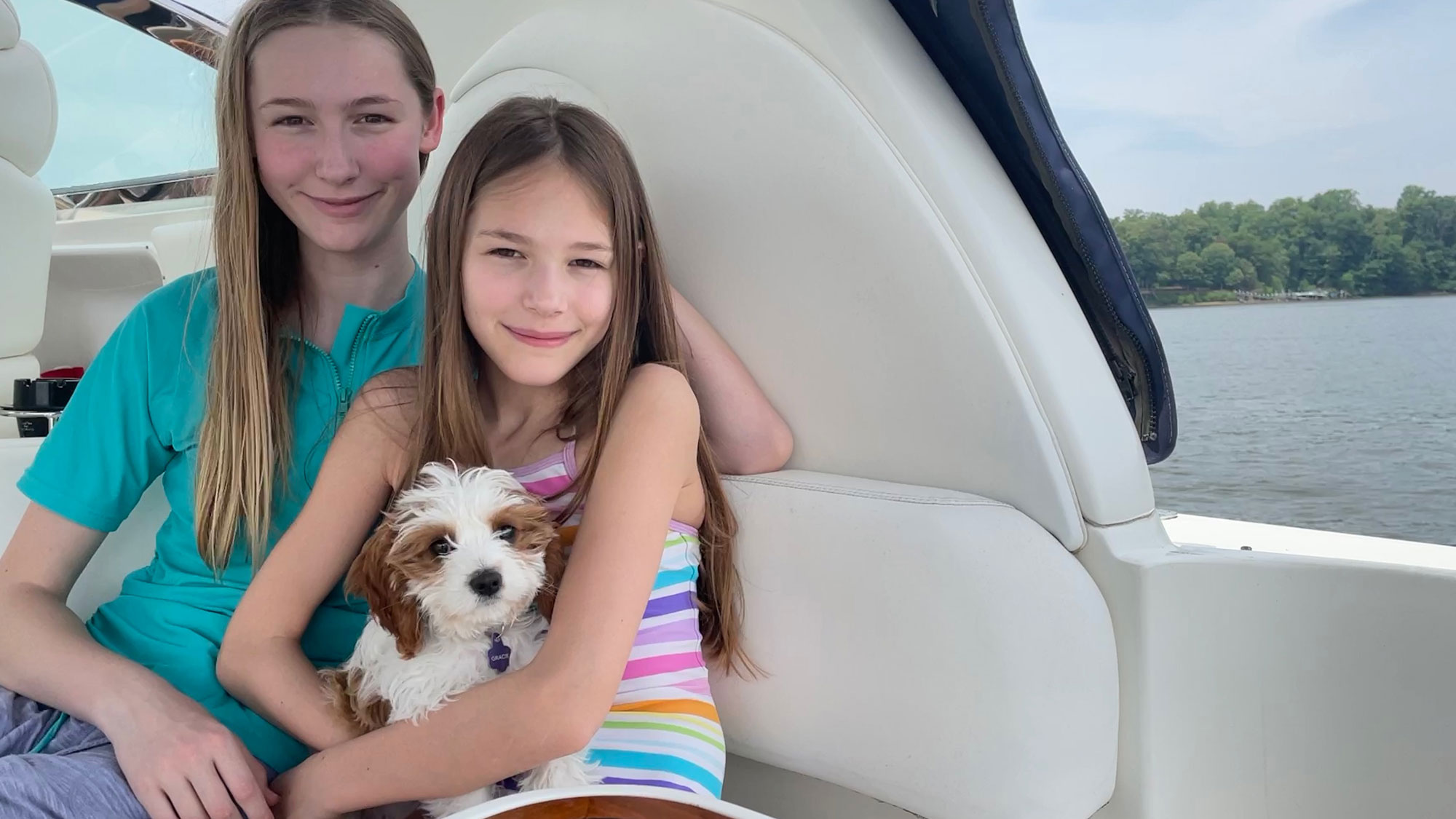 ---
---
A new puppy brings new responsibilities and adventures for boat kids – how we juggle boating with kids and a dog!
After years of constant begging from our kids, we finally gave in and got a dog. Our new little pup, a Cavapoo named Gracie, is everything we could have hoped for in a first boat dog – small, friendly, easy to train and loves being on the water!
Bringing a new 2 month old puppy on board is reminiscent of the feelings we experienced each time we brought our kids to the boat as a baby. There was a lot of nervous excitement to experience life on the water with a new addition. Whether it is a new baby or a fur baby, it shifts your priorities, increases your emphasis on safety and brings you new opportunities for fun on the water.
For our kids, adding Gracie to our boat crew this year has been a big change for them. It has given them a chance to gain more independence, take on new responsibility and demonstrate how much they have learned about boat safety over the years. Now that our two daughters are getting a bit older, 14 and 10, they are anxious to share their knowledge with our new canine crew member.
Learning the ropes
Establishing a routine and getting our new boat dog comfortable around water were our first priorities bringing Gracie to the boat, and our kids were eager to take on these new responsibilities.
House training a new pup takes a lot of patience and consistency, so we were worried that introducing Gracie to "boat training" would be a difficult adjustment. We knew that trying to walk a dog up and down a dock a dozen times a day to avoid accidents inside the boat cabin was going to be quite a chore. Luckily, our kids were up for the challenge and quickly became a big help assisting with the many walks up the dock to the designated potty zone at our marina.
Our kids are immensely proud of their new pup and really enjoy the attention she gets on the dock. At the same time, we remind them to be careful as they maneuver up and down the dock with Gracie. They keep her on a short leash and away from the edge of the dock.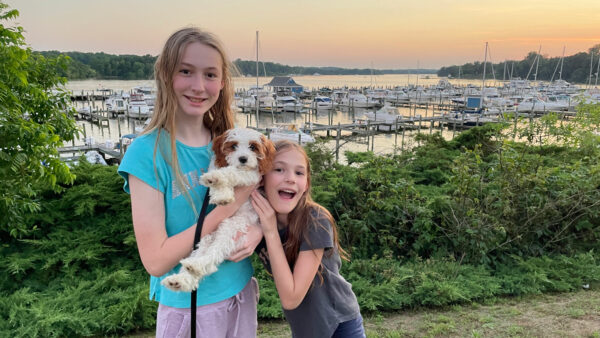 We also gave our kids other boat duties with our dog, like refreshing her water and food bowls. Other important new responsibilities include supervised play time in the cockpit and ensuring our boat seats did not become chew toys. [Pro Tip: boat dogs love to chew on old dock lines!]
Safe wet dog adventures
Our kids spent many years observing other boaters having fun playing with their dogs along the shorelines of our anchorages, and our weekend boat outings always made them long for a dog of their own. Now, with Gracie, they finally get to experience firsthand the joy of frolicking on the sand with a wet dog!
Safety is always a priority on our boat, so we have already established water rules for our kids to follow with a dog on board. Gracie will need to wear her doggie life jacket when we are cruising, taking her on a paddleboard ride or out on the hook in deep water. When we are on the water's edge or beach, we feel comfortable with her instinctive swimming abilities to let her run and doggie paddle around in shallow water. Rinsing her well after swims in the river and keeping her well hydrated are all new boat safety measures we also put in place.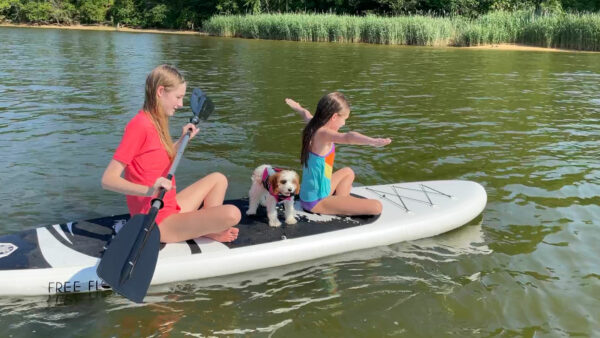 Whether we are swimming, paddling or running around on the beach, having Gracie has been a blast for the kids. It has been an absolute joy to see our kids light up with excitement as they share their boat life experiences with their little puppy. You can almost envision them sharing their love of boating with their own kids someday.
Our first excursions with Gracie have been easy anchorages by a nearby cove, but we are anxious to introduce her to some of our favorite boating destinations throughout the summer and the seasons ahead. Our boat family has expanded, and we look forward to this next chapter of creating memorable adventures on the water.
Watch the Video
Here's how we adapted to have a dog on board our boat, including doggie boat gear we use!
This article originally appeared in the August 2021 issue of Lakeland Boating  magazine. As a boater with two boat kids I am thrilled to share my experiences in a summer Boating with Kids column for the regional boating magazine Lakeland Boating.
Disclosure Policy:
This site may contain links that are affiliated with companies where we receive compensation.
Full disclosure policy
.