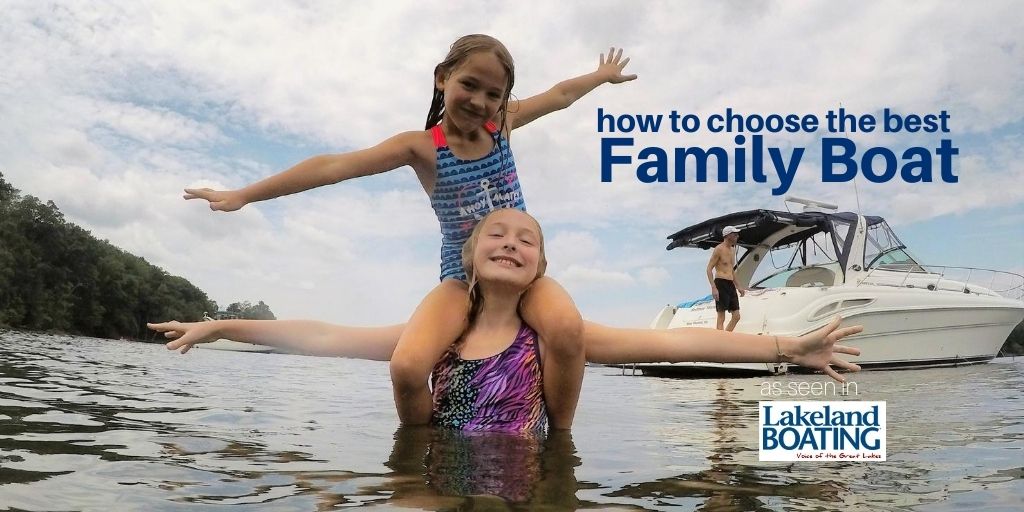 ---
---
Family-friendly boat features to look for when choosing the right boat size & style for a family with kids (as seen in Lakeland Boating)
Purchasing a boat is certainly a big investment, so you definitely want to make sure that you choose the best possible boat for your family's boating lifestyle. From how you use your boat to layout and design, there's a lot you'll want to consider to ensure your days on the water with kids are both safe and enjoyable.
Over the years I have seen families with kids on all types of boats in all size ranges – from smaller bow-riders to larger cabin cruisers – and it's obvious that one size does not fit all. Each boat type offers different boating experiences. And depending on the age of your children, your family may have unique boat preferences for space, functionality and use.
Prioritizing what type of boat will work best for your family is the first step in choosing between the hundreds of amazing boat models available to boaters today.
Boat use and functionality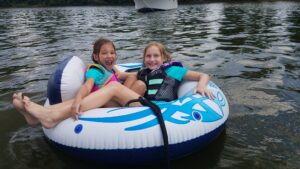 Before selecting a boat, you'll first want to decide how your family plans to use your boat. Are you a day boater or weekend boater? Are you interested in watersports activities with the kids or do you need more space for overnight cruising to new destinations?
Most day boaters with kids are looking for a boat that can be easily transported to different locations on the water and accommodate a variety of watersport activities like tubing or waterskiing. A smaller sporty boat, bowrider or pontoon will give your family the flexibility to enjoy hours of fun at your favorite lake locations. You can find great deals on boat transport here.
On the other hand, weekend boaters may want to opt for a bigger boat that is spacious enough for overnight stays. In bigger cabin cruiser style boats you'll likely be more comfortable cruising longer distances with kids and you'll have more range to visit and explore new destinations. Although bigger boats may require a slip rental, marinas can provide additional family-friendly amenities (like a pool, playground or restaurant) that add to the boating experience.
Are your kids very young? Their age could be a factor when choosing a boat. A flybridge style boat, for example, may be spacious but may pose a safety concern with young kids climbing stairs to an upper deck. Similarly, a faster ski or wake boat may be more appropriate when your kids are a bit older to safely enjoy watersport activities.
Another big question you'll need to decide – inboards or outboards? Outboards have been increasing in popularity because they are economical and allow you to anchor close to shore. However, inboards allow the props to be safely tucked under the boat with easy swim platform access for kids swimming behind the boat. Each come with advantages & disadvantages you'll want to consider for your family.
Space and comfort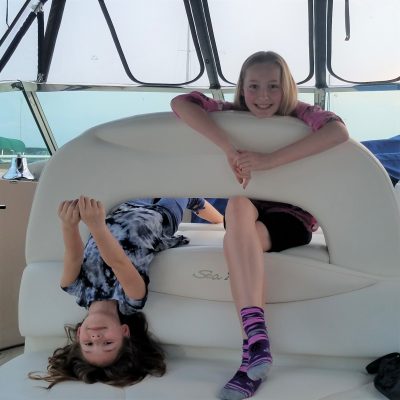 Many boaters are drawn to boats equipped with all the latest technology features, but ensuring all your family's basic requirements for comfort are met is just as important.
Cockpit layout – Is there enough seating for the whole family and are you able to keep little ones within arm's reach? How about easy access for watersport or swimming activities? Is it difficult for kids to board the boat?
Cruising – How well does the boat handle wakes or choppy water?
Cabin space – Is there any cabin space for young kids to nap during the day? Is there enough space for everyone to comfortably spend one or more nights?
Storage – How much space do you need for baby or toddler gear? Do you have enough storage for all the kid's activities you plan to do?
Head & Galley – Do you have a head for kids to use? Is there a small galley to prepare a meal?
Sun Protection – Is there enough sun protection on the boat, or do you need to add more permanent sunshade to protect your kids?
Budget
The final deciding factor when choosing your family boat may ultimately be your budget. Your budget will likely influence the boat size, brand or model year selected. How often your family plans to use the boat and how many years you plan to keep it should also factor into how much you are willing to spend.
If your budget is tight – or you are unsure how your family may want to use a boat – you may want to consider joining a boat club. Clubs give you access to a variety of boats for a monthly fee and can be a great option for families looking to get their feet wet with boating.
This article originally appeared in the August 2019 issue of Lakeland Boating  magazine. As a boater with two boat kids I am thrilled to share my experiences in a summer Boating with Kids column for the regional boating magazine Lakeland Boating.
Disclosure Policy:
This site may contain links that are affiliated with companies where we receive compensation.
Full disclosure policy
.