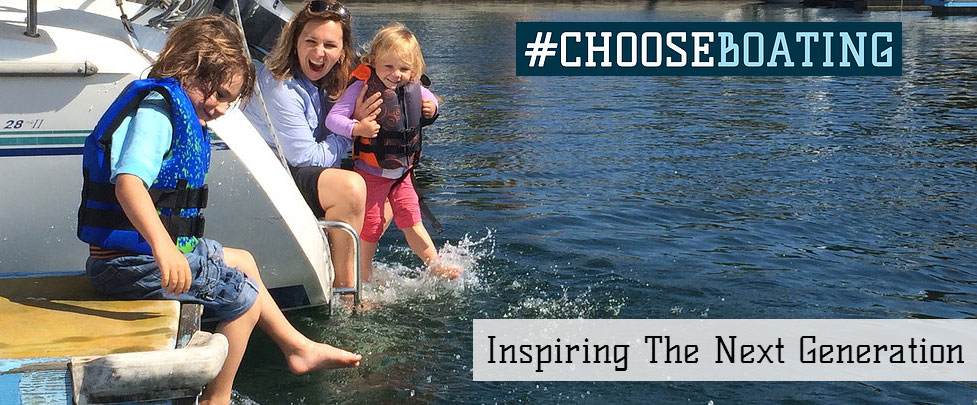 ---
---
Boating industry project aims to inspire a new generation of boaters through hands-on experiences
Kids are so eager to try new things, explore their environment and go on exciting adventures… and what better to accomplish these things then by exposing them to boating?
A new project called #ChooseBoating aims to inspire a new generation of future boaters by giving them an experience that will last a lifetime.
The mission of #ChooseBoating is to promote the boating lifestyle and its associated invaluable life skills by encouraging current boaters to introduce young people to the water.
Why get kids involved in boating?
The #ChooseBoating project believes that there is no better family recreational activity on earth than boating:
The VALUE of recreation time increases when on the Water
Time on the water, away form landgone pursuits, bring family and friends closer.

Boating means Freedom
Being afloat, on a vessel of any kind be it big or small, power or sail, instills a sense of freedom unlike any other hobby or pursuit.

Boating instills Self reliance
Take the helm. Get underway. Operate the vessel safely. It's all up to you!

Boating builds Leadership
On board every vessel, someone is in charge. That person is the Captain and his or her role is primarily to take care of everyone on board and to operate the vessel safely.

Boating builds Life Lessons young people can learn that will serve them well over the course of their lives
This is a key point and much of the reason that drives the passion behind #ChooseBoating. Exposing kids to boating gives them much more than just a hobby. It gives them a jump start on valuable life skills.
Getting on Board
#ChooseBoating hopes to introduce children and teenagers to the idea of boating: the possibility of experiencing the most amazing adventure on the water, learning boating safety, meeting real boaters, and becoming passionate about active boating lifestyle.
The project is open to kids between 5 and 19 years old who are interesting in boating – power or sail. The focus is on teaching kids and teens to drive the boat, learning how to handle dock lines, helping take care of the boat, all these things help teach young generation responsibility, accountability, teamwork, and so much more.
Project Support
BoaterKids.com is proud to support the #ChooseBoating project by encouraging kids – both new and existing young boaters – to get excited about boating! Look for more highlights of #ChooseBoating events on BoaterKids.com, along with more of our kids' boating lifestyle features.
Other industry supporters of the project include: MoreBoats.com, Howard Boat Works, Freedom Boat Club (San Diego) and Boating Times Long Island.

Disclosure Policy:
This site may contain links that are affiliated with companies where we receive compensation.
Full disclosure policy
.
---
---
---
The following two tabs change content below.
Latest posts by Diane Seltzer (see all)