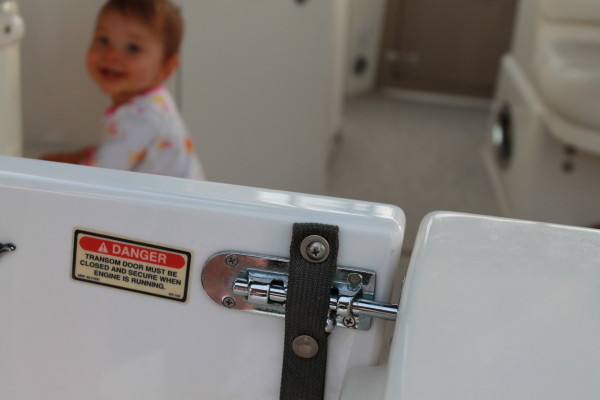 ---
---
Child proof precautions you need to do to make sure your boat is safe for baby
As your baby begins to get mobile, one of the first things you do is child-proof your home. You plug all your outlets, put up gates and lock all your cabinet doors.
Keeping your boat a safe haven for your baby – including the boat cabin and cockpit – is just as important of a task in your child proofing efforts.
The good news is that because of the nature of boat designs, most boats have a lot of "child proof" mechanisms already built in. There are few outlets to cover (and most are not at floor level) and most cabinets have locking closures.
But just like every child is different, every boat is different too. So you need to assess the safety of your boat for the age of your child and continue to make adjustments as your baby grows. And remember, just like the inconvenient gates in your doorways at home, most of the child proofing you need to do on a boat is temporary.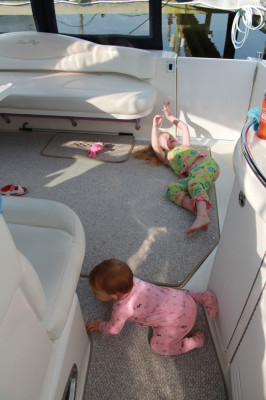 Here are a few tips I have picked up along the way for child proofing our boat for our little one.
Choose your boat type carefully. We have always had a boat with a cabin, and an express style boat just seems to be the best choice for us now with little kids. There are very little stairs (unlike a sport bridge style boat) and the open cockpit works as a great play area. If you have camper canvas, you can enclose the sides of the boat around the seats to keep it extra safe and enclosed for kids. I particularly like this at night when we are hanging out in the cockpit and the kids want to climb around on the seats – we feel more contained.
Depending on your boat style you may need to make extra child proofing and safety precautions – like putting netting along railings or across the bottom of steps to keep kids from climbing.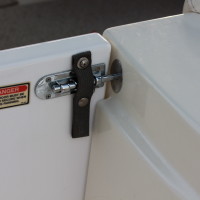 Secure cockpit doors. The lock to our cockpit door is on the exterior and there is a strap that snaps over the sliding lock to keep it fastened. The strap is smart – because it doesn't take long for little fingers to learn how to slide a lock open – even from the other side of the door. Make sure your cockpit door is secure, or make any adjustments so that it stays securely closed and kids can't wander out onto the swim platform.
Always lock cabin doors. You can't really put up a child proof gate on boat cabin doors, so while your child is crawling or learning to walk its best to keep the door closed and locked. You'll want to keep an eye on them going down stairs into your cabin and coming up the stairs. From a water safety standpoint, I also keep the door locked when we are in the cabin so that a child does not go up on deck when no adult is there.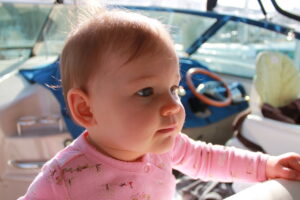 Keep cleaners out of reach. Just like you don't want kids to get to the cleaners under your sink at home, you need to keep dangerous chemicals and cleaners out of reach. If you don't have a secure locking storage locker on your boat, then keep them out of reach in the stern storage locker or off your boat in a dock box.
Cover the helm. There are lots of little buttons at the helm to entice little kids. If possible, snap on a cover to enclose the controls. And of course do not leave keys in the ignition.
Clear gear from the cockpit. Keep the cockpit clear of any gear that could cause trouble or harm to your child – such as cleaners, boat lines, air horns or fishing gear.
Cover outlets in the cabin. Plastic outlet plugs are just as important in the cabin as at home – even if they are not at floor level. Chances are they will want to practice their standing and try to reach for outlets behind salon settees or beds – so anything potentially in reach should be covered.
Always be within arms reach on deck. As with general boating safety for kids, always have an adult within arms reach so that you can stop them from doing something they shouldn't be doing. You may not realize what your developing kid is now capable of getting into… until they get into it. So be ready at all times!
The important thing with child proofing a boat is making sure there is a good combination of general boat safety for kids with general child proofing safety. 

Disclosure Policy:
This site may contain links that are affiliated with companies where we receive compensation.
Full disclosure policy
.
---
---
---
The following two tabs change content below.
Latest posts by Diane Seltzer (see all)