---
---

Meet Sydney… a 9 year old liveaboard boater kid from Australia who loves her boat life and the adventures it brings
It all started a long, LONG! time ago. Ok, ok, it only started 3 years ago. 3 years ago was a hard time for our family. My Dad had a building company that he had to close. We had to sell everything, even my toys because we did not have any money. But at the time, I didn't know all this was going on, I thought we were just moving onto my Grandad's boat called 'Summer Dream'. Our house used to be a big beautiful 3 storey Bali style house. Even my toy room was way bigger than Summer Dream. We sold the house to someone with bad taste (that's what Dad said). Then we moved onto my Grand Dad's boat, a motor boat.
We lived in the Wynnum marina then we moved to the RQYS marina. There was a great playground, with a big climbing tree. We used to climb the tree and just play house on the branches. They also had big green lawns to run around on, until I tripped and snapped my elbow and had a cast on for five weeks.
Summer Dream was small for everyone but not for me or my little brother. We made a cubby house under the table and play in the V berth. We all shared the small living space and sleeping space, there was no cabins or privacy, only the toilet at the back of the boat had a door. We didn't have much, not even a TV but we had lots of things to do. We would play in the marina and would go out on the weekends to explore Islands with our friends, Jack and Savannah.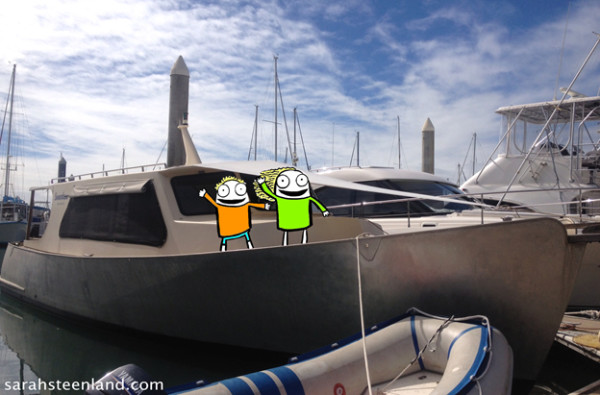 Then a while later mum, Indi and I flew to Townsville and Dad brought the boat up with Grandad. We lived on Maggie Island in the Nelly Bay Marina. I went to school on the Island while Indi went to the Kindergarten.
There were so many beaches to play on with big rocks to climb on Magnetic Island. We would all go to the waterfalls during the wet season. We made new friends with two sisters who lived on another boat in the marina, they were twins and were homeschooled.
After 2 years of living on Maggie Island, Dad got another carpentry job to build the new hospital in Townsville, so we had a choice to stay on Maggie and see Dad only when he got back late at night, or move to Townsville and see dad at 3:30 weekdays. So we all chose to move the boat to the Townsville marina.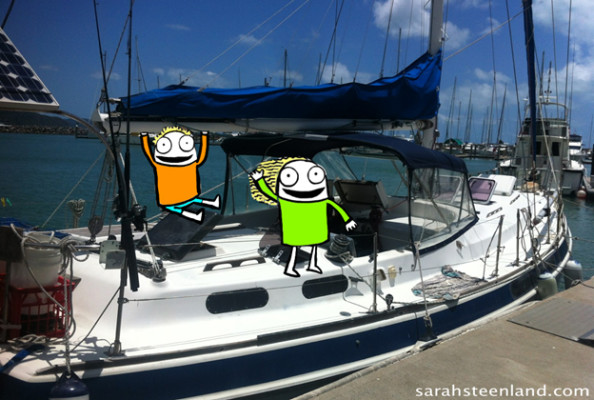 Since we've been in Townsville, Mum has been homeschooling both Indi and I. We spend a lot of time at the library and the museum. We know the staff very well at the museum and they love us. Indi's favourite exhibit is about the Pandora wreck, a ship that sank off the coast of Australia 200 years ago.
We have recently bought our own sail boat called 'Escape' and moved from Summer Dream onto the more spacious new boat. Indi and I miss Summer Dream, but it's great to have our own sail boat so we can sail around the world.
At the moment we are very busy preparing the boat to head north and make our way up to Darwin. We did a massive shop to stock up on food, for our 6 week trip to Cairns. My job was to document while storing it all, I'm excited to leave but I will miss my friend who lives on a boat here in the Townsville Marina on the next finger over from us.
I hope to keep in contact with all my friends that I've met so far.
Written by Sydney Steenland – Cartoons on photos by Sarah Steenland 
Disclosure Policy:
This site may contain links that are affiliated with companies where we receive compensation.
Full disclosure policy
.