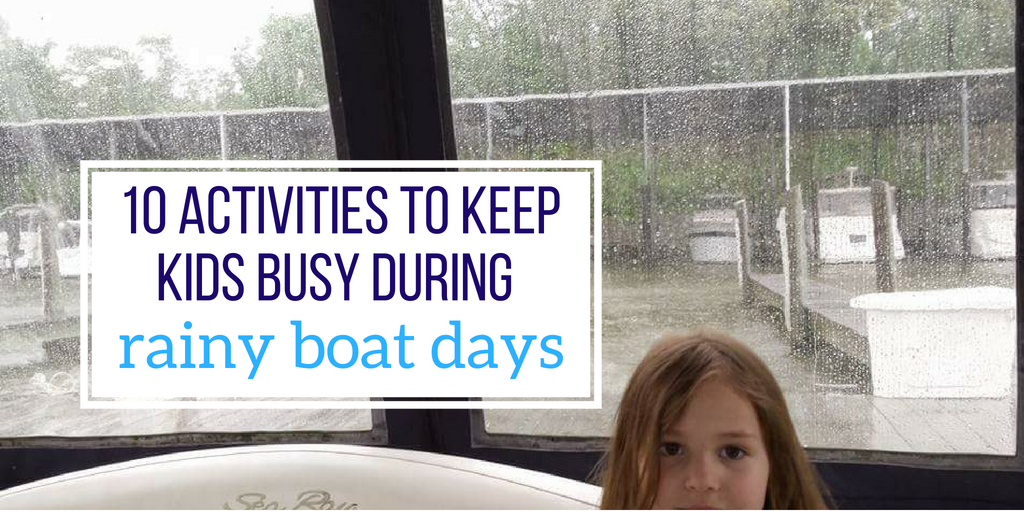 ---
---
Boredom-buster ideas and activities to keep kids entertained on board when you have a rainy boat day
Boating is nothing but fun in the sun for kids – the nonstop action of swimming, tubing, fishing and cruising keeps them constantly entertained. But the reality is that not all days are sunny. Sometimes there are rainy boat days and kids will be looking to be entertained.
We are weekend boaters and there is nothing worse than waking up on a Saturday morning to the pitter-patter of rain falling down on the boat. Other times that unexpected afternoon rain shower can put a halt to our boating activities. It can be a total bummer for kids.
Sometimes being stuck on the boat when it's raining is just inevitable. Most rainy days we spend on the boat tend to be periods of on and off rain. It's enough to ruin a boat trip, swim in the river or dip in the pool… but you can still find some activities to make the best of foul weather.
Having rainy day boating activities on-hand can help you survive the foul weather boredom. You may actually find that sometimes a break from the sun is actually a good thing!
Looking to stow away some rainy day ideas for your kids? Here are a few ideas to get you through your next cloudy boat day.
Watch a movie
You may see your boat as an escape from spending time in front of the tube, but if you have a cabin with TVs on board you should keep it well stocked with movies – for rainy days or just winding down from a day out on the water. We always keep movies on board to keep the kids busy when there is downtime anyway, but it is especially important to have a selection of movies on the boat for rainy afternoons. We also have a different variety on board than at home… mainly because the TV in the kid's stateroom has a VHS player – yes VHS! – so we have a ton of old Disney movies on tape that they haven't seen in a while (or ever).
Do a puzzle or crossword puzzle
Go old school, unplug and teach your kids how to do puzzles, crossword puzzles and other word games. This is something you can do together (and secretly build on vocabulary skills!). We always keep extra crossword puzzles and smaller kids puzzles on board for when we have downtime on our boat. They are also great independent activities for older kids to do when you are sitting under the canvas in the rain.
Play a board game
Boating gets families together – so stick with that theme and make it a family board game afternoon. A few simple board games are also great to have on board for down time or rainy days. Be sure to make it a simple game that is age appropriate for the entire family to get involved in the fun.
Watch the rain on radar
When you are experiencing a passing storm it's always fun to watch the storm on radar to see the action… and when you may be out of the downpour. We like to sit at the helm (under the canvas of course) and watch the storm activity on radar. It also helps kids pass the time as the storm rolls through. Make it fun by teaching your kids how the radar works (not an easy thing to do on sunny days!), or keep an eye on it to check for breaks in the rainy weather to plan activities later in the day.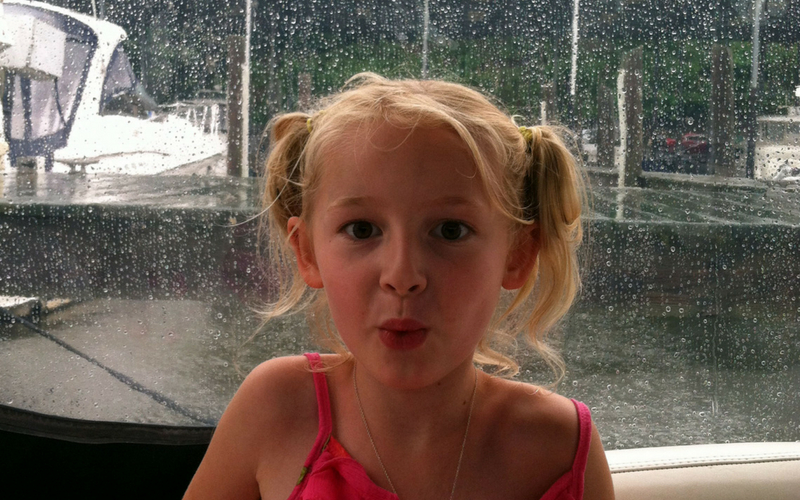 Play with electronics
Whether it is your laptop to surf the internet (that is if you can get a good internet connection at your marina), game apps on your smartphone or electronic kid's games, everyone can keep busy while they are waiting for the rain to pass. They are a lifesaver on board when kids just need to wind down (also to keep little ones entertained at the marina restaurant!)
Get artistic
Stash some basic art supplies on board so that kids can draw or create simple crafts. Stick with non-messy supplies like crayons or color pencils (because markers and white vinyl are not a good combination). For crafts, try simple paper crafts, beads, rainbow loom or other busy activities that don't require a lot of supplies, effort or mess on board. Don't have any supplies and desperate? Get creative with your smartphone and take funny pictures or videos. There are also lots of great apps for smartphones and tablets that let you edit photos and videos.
Go fishing in the rain
If it's a light rain, then you can probably still do some dockside activities. Many anglers like fishing in the rain. A cloudy day or rainy day with less boating activity in the water may also attract more fish. A light drizzle shouldn't stop you from grabbing your tackle box and fishing from the dock… or even the back of the boat sheltered by canvas.
Explore your local town
You probably keep your boat in an area that is close to waterfront towns and never have a chance to actually check them out. You usually spend more time on the water swimming, tubing or going on cruises than you do checking out your local towns. A rainy day is the perfect time to take a short drive into town to check out local attractions with the kids.
Plan your next boating trip
Use the downtime on board to pull out your waterway guide to plan your next cruising destination. Talk about where you want to go on a boat trip and things you can do when you get there. As a bonus, marinas are probably less busy on rainy days so it may be a good time to go ahead and make some calls for transient reservations.
Boat hop
Our kids just LOVE to board other people's boats – it's always fun for them to explore another boat style or size. If you keep your boat docked at a marina then try visiting your slip neighbors when it's raining. It's always more fun to sit in the cockpit under the canvas with others socializing and complaining about the weather together.
Be sure to bring provisions – perhaps a few cocktails for you and juice boxes and snacks for the kids. And make sure you are extra careful boarding during the rain and kids are in their life jackets.
You will most certainly have at least a few rainy days on the boat during the course of your season. Always be prepared with a few ideas to pass the time while it's raining to avoid the dreaded words "I'm bored!"

Disclosure Policy:
This site may contain links that are affiliated with companies where we receive compensation.
Full disclosure policy
.
---
---
---
The following two tabs change content below.
Latest posts by Diane Seltzer (see all)