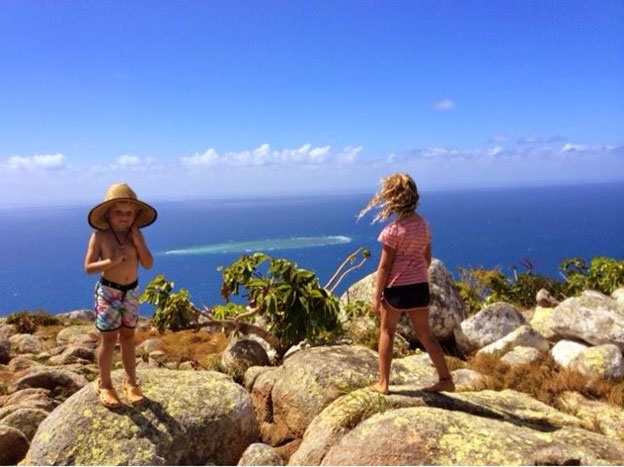 Exploring the islands along the Great Barrier Reef as Sydney, a liveaboard boater kid in Australia, continues cruising the world
I haven't caught up with blogging for a while and one of the reasons: we've been out of wifi range… and the second reason: we've been very busy exploring deserted islands.
So since my last post….
At Yorkey's Knob Marina we caught up with our friends from Maggie Island (we have not seen them for a year). We were just in time for the twin's birthday (a day early), Charlie and Georgie were so happy to see Indi and me. We stayed there for 6 days, that was when we picked up Mazzie (my grandma).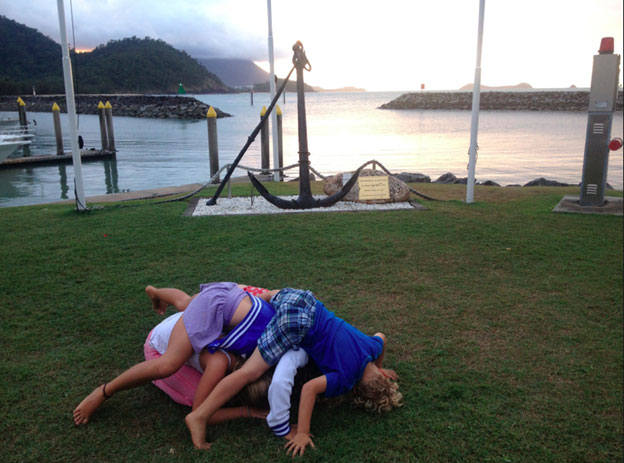 Then we went to Port Douglas. We anchored up the creek among the mangroves and stayed there for 1 night. Not much to do there, unless you like to shop for clothes and things, but we all walked to the main beach and had chips and drinks at a place on the way back. Next morning Dad, Mazzie, Indi and I went to check out the wrecks down the creek.
Next stop: Low Islets. We fed the bat fish, sucker fish, shark and G.T, also checked out the lighthouse, went snorkeling and found a clam family.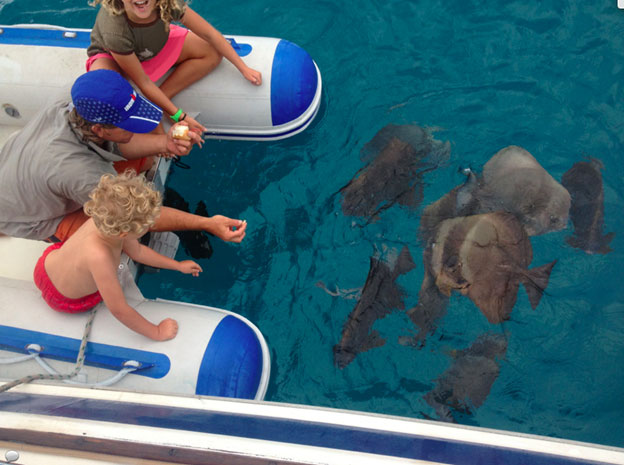 Cape Tribulation
We walked to an unexpected resort and put out a back anchor to stabilise the boat because it was a bit rolly.
Now my favourite part of the trip… The East Hope Island. I learnt how to spear fish from the beach, there were schools of sardines as thick as soup swimming in shallow water. Mum loved eating them, so Dad got the cast net – did two throws and got 266 sardines!!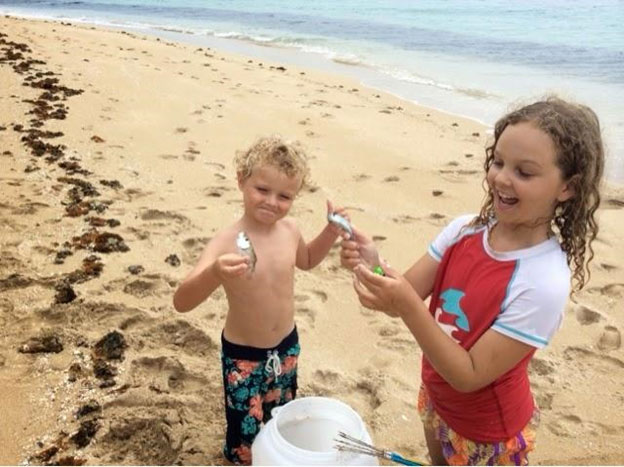 We met two campers who came to Hope in a 16ft caper cat from Port Douglas, they brought with them a tent, tarp, big blanket, food, water, wet suits and pillows. They also preferred not to wear clothes, but they put them on when we would go to the beach. Their names were Mi and Sage, and they looked like they were from the ice age with their rag clothes and dread locks. They were really friendly and we became good friends while we were there, sheltering from the strong winds.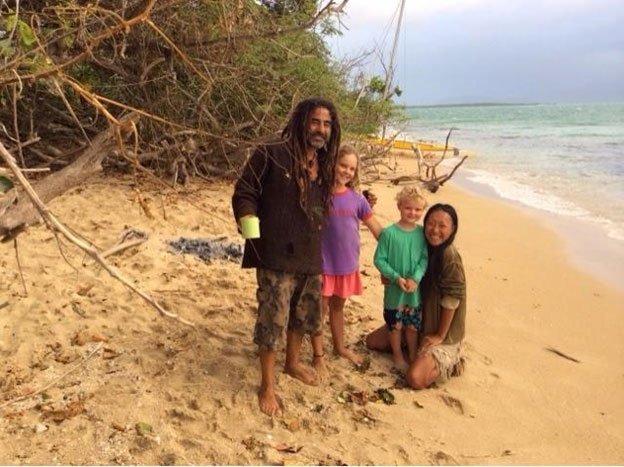 After the wind died down a bit, we made a dash for Cooktown. We did a big walk and Indi and I were starved for water, he thought he was going to die! We found out a lot about Captain Cook and stocked up on more food and water. While waiting for our laundry to be done, we had fish and chips. It cost….75 DOLLARS!!! Mum and Dad got us a surprise, they bought a real bow and arrow.
Lizard Island
I tested the bow and it's better than I thought. We anchored at Watson bay and walked to the research station and had a tour. We walked up the hill called 'Cooks Look' on the way down my skeleton nearly jumped out of my body because a Goanna scurried off the track.
Near the BBQ, there was a large timber barrel. We opened up and there was a giant HMS Pandora wooden treasure chest- and we opened that too. "Blimey, we found ourselves some treasure!!!"
There were goblets, a sun mirror, some cockroaches, letters and metal plates. We added a note to the treasure and put it back for others to discover.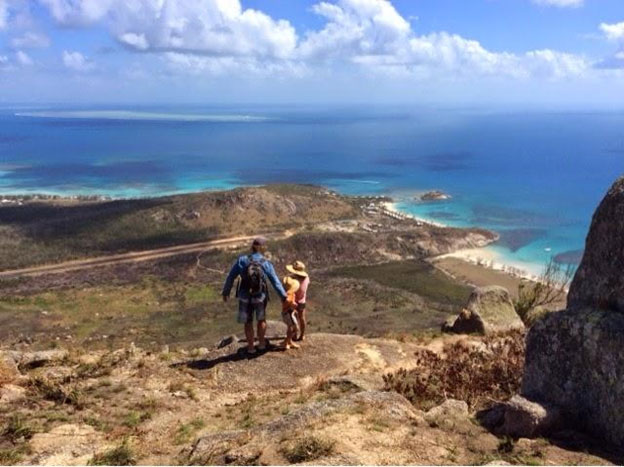 Coquet Island
Found a rusty old shipwreck and near the wreak Indi found one big Nautilus and one small one and I found a pearl shell. On another beach, Dad caught one sweet lip and one Trevally. While Dad fished, Indi and I played in the coral that was piled up creating a army base.
Ingram Island
There were graves, so Indi and I went and found them. A research boat arrived to drop off some turtle researchers – they had a so much stuff to offload from the dingies. When a tanker came past there were some HUGE waves! We met some new friends and they live on a motor boat called Thirsty Dog. We had a swim because there had been no crocodile sightings around Ingram for years, (well, that's what Marlene told us anyway). We joke around telling each other to watch out for 'shark-a-diles'.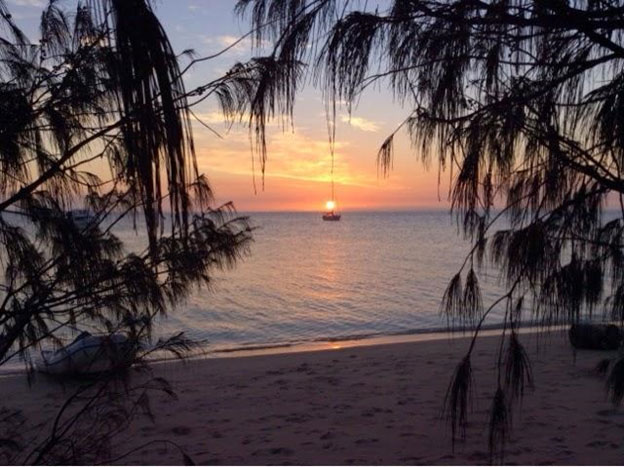 Pippen Island
There was almost no good trees to shade us but luckily the water was GREAT! And mum found part of a dug out; a canoe cut from a log that Islanders from The Torres Strait use to fish in. So I named it the Porpoise and it sank.
To be continued…
Written by Sydney Steenland

Disclosure Policy:
This site may contain links that are affiliated with companies where we receive compensation.
Full disclosure policy
.
---
---
---
The following two tabs change content below.
Sydney is 9 and has been living on a boat for three years in Australia with her Mum, Dad and little brother Indi. They will be cruising Asia in 2014 and plan to do humanitarian and conservation projects as they travel. Visit the
GreenGorillaProject.com
and follow their adventures.
Latest posts by Sydney Steenland (see all)