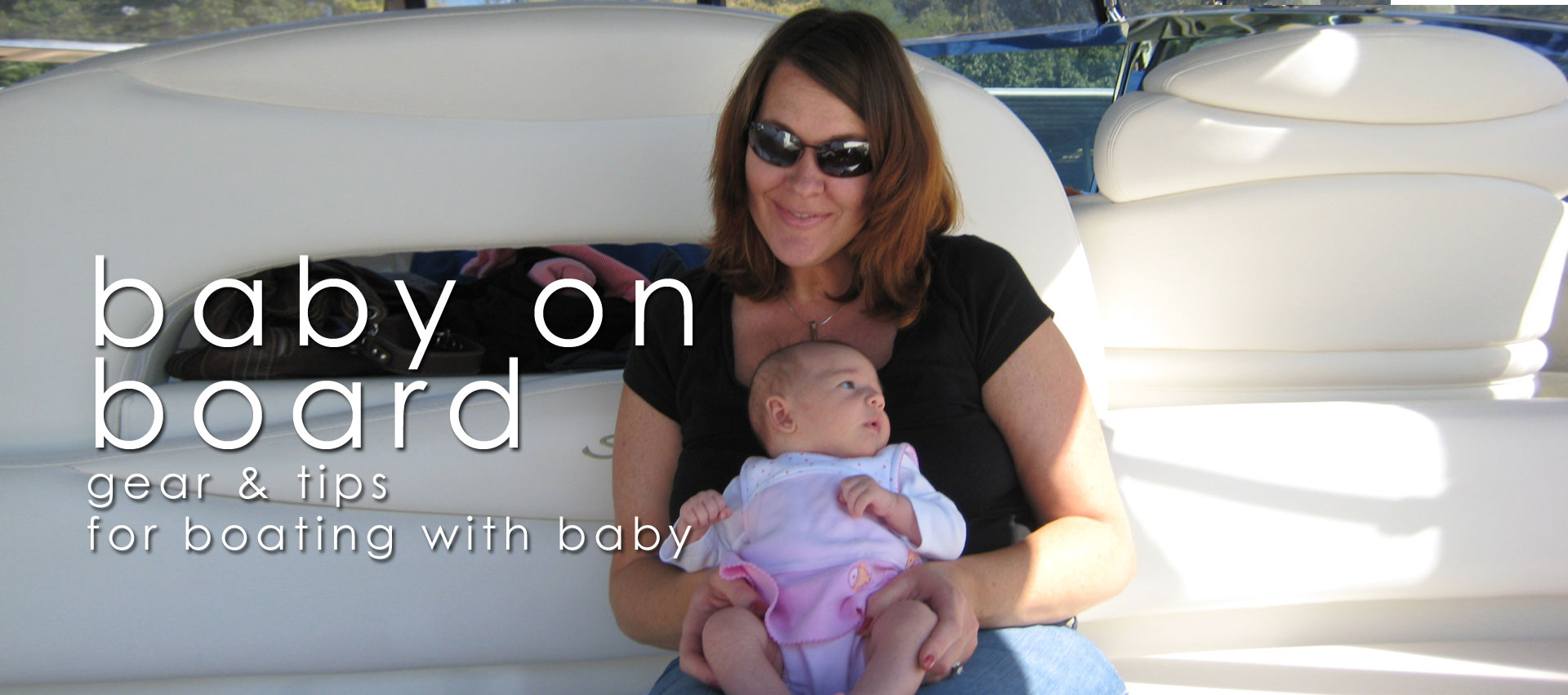 ---
---
Worried about taking your new baby boating? Here's how to make sure a baby or infant is safe boarding and cruising on a recreational boat
As a new parent, it is expected that you may be nervous about taking your new baby or infant on a boat. That anxiety is probably even greater if you are a new parent that is also new to boating.
Most avid boaters that have been faced with the decision to bring a baby on board (myself included) will tell you that having an infant baby should not stop you from going boating.
In some ways, it's actually very easy having a baby on a boat – much easier than an active toddler that has learned to climb and run around. And if this is not your first child then you already know that it's so much easier getting out and about during the baby days. With a few extra safety precautions and the right gear, there really is no reason why you can't boat with a baby.
Rules for Boating with a Baby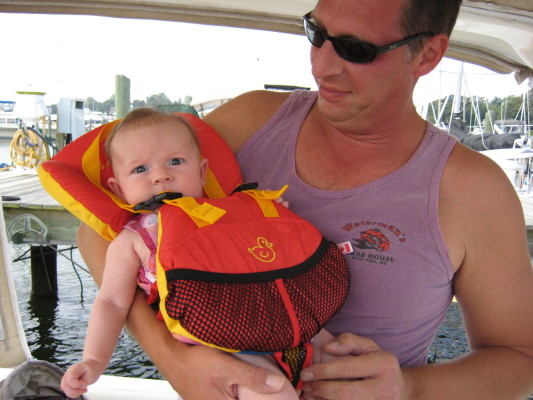 According to the U.S. Coast Guard's Office of Boating Safety, an infant should not travel on a boat until they weigh at least 18 pounds and can wear a personal flotation device (PFD). Most babies will reach that weight when they are between 4 and 11 months old.
As for bringing a baby on a boat, I think the key phrase is "should not travel" as opposed to "should not go on" a boat with an infant.
Note that my guidance here is for recreational boating.
Although they should not travel on a boat when they are newborn babies, there is no reason why you can't have a baby on a boat that is docked, anchored or moving slowly (at no wake zone speeds of 6 MPH) as long as the baby is wearing an infant life jacket that is intended for infants under 30 lbs.
An infant life jacket has a built in "heads up" cushion with a loop handle at the top, along with a strap that goes between the legs (to keep the jacket from sliding up). They are intended to fit snug and raise the infant's head out of the water.
Here are our Top 5 Picks for infant life jackets designed for babies under 30 lbs:
See our full selection of recommended infant & baby life jackets
Safe Boating with an Infant Baby
Both of our girls were on our boat for the first time at about 2 weeks old. They were summer babies so we had about 6 weeks left of the season once they were born. We brought them to the boat and remained docked most of the time, except for an occasional short putt-putt cruise to drop the hook at the cove across from our marina.
While the boat was in motion we had our baby safely secured in the infant life jacket. I held the baby in my arms while the captain handled the lines and operated the boat. I should note that with both babies we had a mid-size cabin cruiser – a 25 foot boat with our first baby, and then a 41 foot boat with the second.
IMPORTANT: It is very important not to place an infant in a car seat or other non-floating device when cruising in a boat. It's just not safe.
Safely Boarding a Boat with a Baby
Getting on and off a boat with a baby safely is also very important. There are a few ways to board a boat with a baby that I have seen done.
One way is to pass the baby to someone already on the boat while the baby is wearing an infant life jacket. Doing a hand off of the baby makes me nervous unless you can carefully hand the baby over the edge while not making the transfer over the water.
Personally, my preference is to hold the baby tightly in my arms while boarding the boat. Always have someone standing alongside you to steady you while boarding the boat if needed.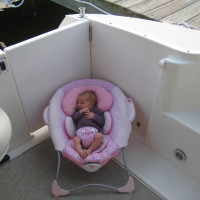 Once on board the boat, it is fine to have the baby sit in an infant carrier (or we used a bouncer seat because it was more comfortable for the baby)… as long as you are on a stable boat and not underway.
Also be sure to have proper shading on deck to protect the gentle and sensitive skin of infants. (Good rule for a baby or kids of any age too).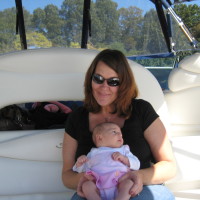 Both of our babies loved just being on the boat. The fresh air, views of nature and gentle rocking of the boat are very enjoyable for babies. In fact, our second baby had a bad case of colic and our weekend trips to the boat were very comforting to her.
The first summer when our baby was born (both times) we kept boat rides to a minimum and took it easy our baby's first few months on the water. But we went to our boat EVERY weekend and had a very enjoyable – and safe – summer with our new boat baby.
See our full selection of recommended infant & baby life jackets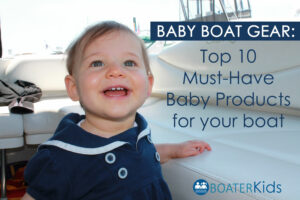 Also see our roundup of Top 10 Baby Boat Gear for all the must-have baby products on your boat.
We provide our favorite gear for life jackets, sleeping beds, booster seats, sun protection and more!
Disclosure Policy:
This site may contain links that are affiliated with companies where we receive compensation.
Full disclosure policy
.